BuySocialMediaMarketing Service Comparison
| | BuySocialMediaMarketing | Top Alternative |
| --- | --- | --- |
| Organic Growth | No | Yes |
| Personal Manager | No | Yes |
| Proxy Support | No | Yes |
| Real Followers | Yes | Yes |
| Real Likes | Yes | Yes |
| | | Get Real Instagram Followers |
BuySocialMediaMarketing Review 2023
Buying Instagram followers and engagement is big business these days. It's trendy and accepted amongst some in the marketing industry, but it's not so accepted by Instagram and other social media channels.
Before you open your wallet to pay for Instagram followers, likes, video views, and other engagement, be an informed consumer. Too many times, people buy followers and get fake profiles in return if they get anything at all.
My role here is to help you avoid safety and security issues that occur from using the wrong companies that sell poor quality followers and engagement.
This review will discuss BuySocialMediaMarketing and whether it's safe or risky.
What is BuySocialMediaMarketing?
BuySocialMediaMarketing or Buy Social Media Marketing promotes itself as Buzz Rapid Media, which they say is a company that provides social media services to clients across the world.
They offer social media services for YouTube, Twitter, Facebook, and Instagram, including IGTV, Instagram's newest addition for longer videos.
After some research, I found that their website isn't very popular, but they market themselves as popular with thousands of customers that use them every day. They claim to have the lowest prices for top-quality services in the industry.
They have apparently added a new service that includes getting your website submitted to popular sites like Entrepreneur, Inc, and Forbes.
We will be discussing the Instagram services for this review.
BuySocialMediaMarketing's Main Features
This company's basic features include:
Safe & Secure
Login Details Not Required
Great Customer Service
Money-Back Guarantee
When you buy one of their Instagram packages, they claim to provide these features:
Top-Notch Followers, Likes, Comments, & Video Views
Fast Delivery
Premium Follower Profiles
Top-rated Growth Tools for Instagram
Here's my list of top tools to grow your Instagram account. Did BuySocialMediaMarketing make it?
Pricing
BuySocialMediaMarketing covers a large range of services that make for tedious reading, so I will summarize them here for you.
Followers
Followers: 100-25,000
Price Range: $2.99-$299.99
Instant Likes
Likes: 100-50,000
Price Range: $1.99-$149.99
Auto Likes
Auto Likes: 100-15,000
Price Range: $9.99-469.99
Comments
Comments: 5-500 Custom – 5-1,000 Automatic – 10-2,000 Random
Price Range: $2.99-$119.99 Custom – $12.99-$1,190.99 – Automatic – $2.99-$179.99 Random
Video Views
Standard Video Views: 500-500,000
Price Range: $1.99-$200 (Reg. $599.99)
IGTV services also include packages for Likes, Video Views, and Comments.
Is BuySocialMediaMarketing safe?
Before we discuss my opinion about this website and service, we will cover the pros and cons.
I hesitate to call this website unsafe as they have obviously taken steps to protect your information both with the HTTPS protocol and the verified payment gateways.
Also, the website is either so new or simply hasn't built a reputation online, which doesn't give me enough solid information to work with.
BuySocialMediaMarketing User Reviews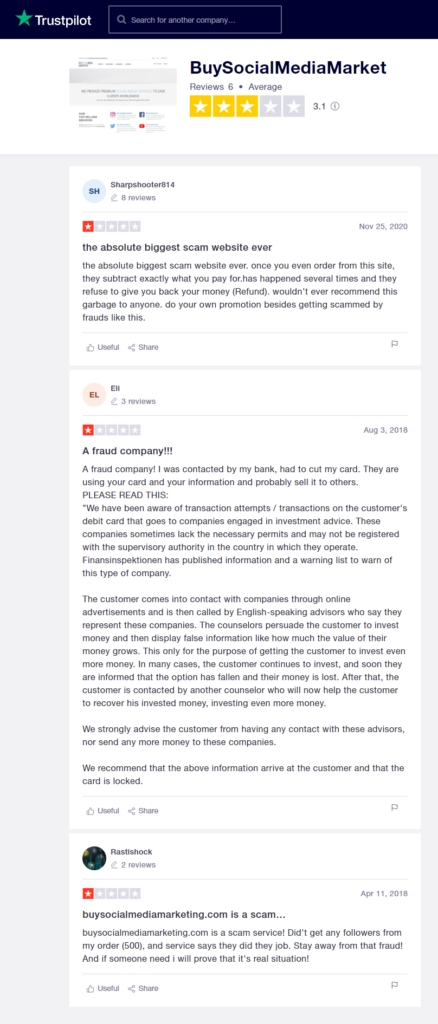 Review Conclusion
Most generally, I avoid websites and services that aren't popular or that don't have much information online.
I prefer websites that provide any kind of digital marketing on any social network to have some kind of online presence that allows me to determine their credibility.
I wouldn't personally use BuySocialMediaMarketing for my own engagement. A follow-up may be forthcoming if they gain any kind of reputation in the coming months.
Top BuySocialMedia Marketing Alternatives
BuySocialMediaMarketing is obviously not a great choice if you want to preserve your current reputation, so let's take a look at some alternatives.
Growthoid is one of the best growth services that money can buy right now in the industry of Instagram growth.
Why? Because they are all about targeted, real followers. They understand that most people these days are tired of bots and fake profiles pestering their account, and only want to sign up for something that's going to be legit and original.
These guys can offer this and more. They even target the people that are checking out your competition's profiles, so that you can win them over instead.
These guys are similar to other companies like Growthoid, so it's nice having a couple of options up your sleeve to choose from.
We love that they have worked with some pretty successful brands so far, including Increditools, meaning that they have a really good reputation under their belt that you can trust.
We love that they promise a completely managed growth service, and they are going to talk to you all about your Instagram page before they get started, so they're not just sending you random engagement.
Task Ant has a lot going for it, but in a way that you might not expect. They have a specific focus on another area of your Instagram profile, in the form of hashtags.
They know that if you have a good engagement strategy, but your hashtag strategy is average, you're only shooting yourself in the foot.
We like that they have a reliable generator that can show you the latest stats around your hashtags, and can keep them neatly on file for you so that you can use different ones in the future.
Buy Social Media Marketing Coupon
I have tried to contact Buy Social Media Marketing for an exclusive coupon or discount code but have been unsuccessful so far. Have you found a working coupon?
If you have, please share it below.
Have Your Say!
Important: Do you represent this company?
Do you disagree with my review? Sometimes I do make mistakes. Comment below & let me know what's factually incorrect and I'll rectify it as soon as possible.
Thanks for reading.
- Jon
The following two tabs change content below.
My diverse background started with my computer science degree, and later progressed to building laptops and accessories.And now, for the last 8 years, I have been a social media marketing specialist and business growth consultant.In my spare time I dabble in crypto and various types of automation.
Latest posts by Jonathon Spire (see all)