With cryptocurrency trading on the rise, it's crucial for all traders to know about the exchange services they can use for their digital assets.
The following information is a review about Bittrex and its verification process for traders.
Bittrex is a reliable, global crypto platform, as per its website. This system can be used on your mobile devices as an app. It is compatible with Android and Apple devices. This organization offers a valuable service to a wide range of people all over the globe.
Ever since Bitcoin, established in 2009, started the digital currency market, the financial game has changed and will continue to do so, according to cryptocurrency experts like Elon Musk. Bitcoin is built on the blockchain and is the main reason that Bittrex even exists.
The role that Bittrex plays in digital currencies relates to converting your country's currency into digital assets like Bitcoin. This is all part of an effort to partake in monetary decentralization across the world.
A lot of ingenuity and technology has been involved in building up the Bitcoin and digital assets communities. The enormous growth over the past few years is a push toward advancement in the decentralization ideal.
One of the biggest challenges with digital assets for Bittrex and other exchanges is maintaining their compliance with government entities. If they fail to comply with these regulations across the globe, there could be fines and charges brought. Therefore, the verification process is somewhat tedious, but well worth it in light of compliance.
We will discuss the aspects of Bittrex and its verification process so that you are an informed consumer and cryptocurrency trader.
Top-rated Crypto Trading Bots
What Is Bittrex?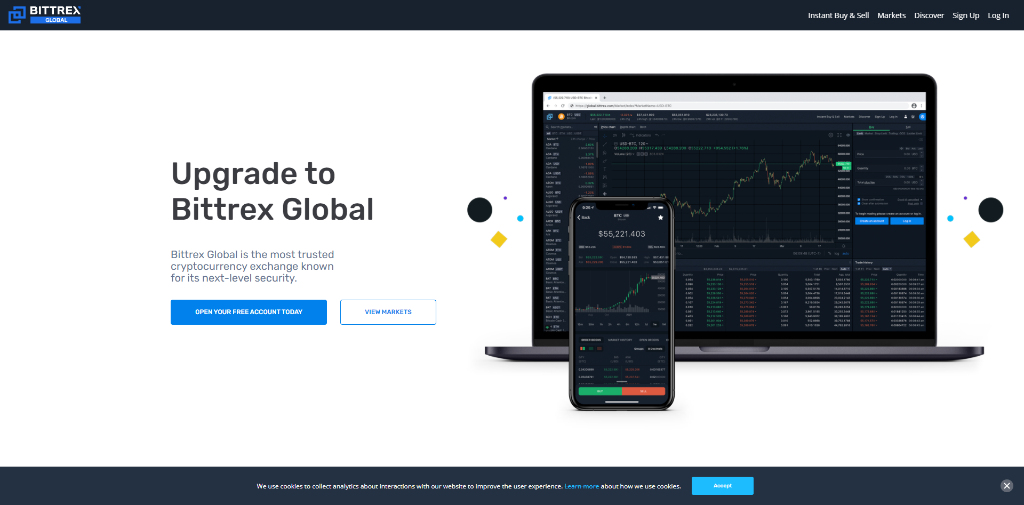 Essentially, Bittrex is an exchange platform used to efficiently facilitate exchanges between cryptocurrencies for traders. So, if you have Ethereum, you can trade that for Bitcoin or the other way around. You can facilitate these crypto exchanges among all supported cryptocurrencies.
You may also choose to hold your crypto coins and let them fluctuate over time. Most traders recommend that you take any digital assets that have gone idle out since it's unsafe to keep them in your hot wallets.
Bittrex is a company that is headquartered in the United States and has been there for some time. Every year it tends to attract more and more traders to its exchange platform. This platform was formed by former Microsoft employees in 2013. These Seattle citizens had watched the demise of several digital exchanges due to cybercrimes and hackers. Bittrex is an exchange that seldom has this issue occur on its assets.
Bittrex developers were determined to create a sustainable, safe, secure, reliable, compliant, stable, simple, and fast platform for exchanging cryptocurrencies. With that in mind, they created a platform for all types of traders all over the world and these users appreciate it.
While there is no accommodation for margin trading on this system now, you can perform spot or automatic trades on the platform. That's not to say that in time, this company could offer margin trading.
It's important to note that Bittrex is not FDIC insured or regulated. That is the nature of digital assets and is usually a positive aspect of these cryptocurrencies and exchanges.
The most difficult challenge this company needs to overcome is its lack of efficient and effective customer service, for which traders do complain about sometimes. People were having issues with this entity freezing accounts due to improper verification or registration.
However, this is still a reliable and viable platform for global traders.
The first step in getting started with this exchange is to register and get proper verification before you do any account funding.
The following will discuss this process.
Bittrex Registration and Verification Process
First, you must go to the Bittrex page and make sure you are on the appropriate page, which is https://bittrex.com/account/register. Some variation of this URL should be part of the page.
You will follow standard protocols like the input of your name, email, and a strong password. Make sure your password is secure and different from any others you use on your accounts.
Confirm your password and agree to the terms and privacy conditions.
Checking Your Email – Part of the registration process is to confirm that you have provided a viable and active email address for your account. You will receive a confirmation at the email address you use to sign up with. That link will direct you to the page that lets you know your email is confirmed.
Verification Process
Now that you have registered, you will move forward to the verification process.
Here is what to expect:
Log in to your new account by inputting the email and password you provided.
Enable the two-factor authentication process (2FA) in the Bittrex settings menu. You will want to install the Google Authenticator app on your mobile phone/device. This secures your account and provides you with safety and peace of mind.
Now it's time to start the verification process. Go to the account settings on Bittrex. Make sure you are logged on and look for the option that allows identity verification. Fill in that information as part of your profile data. You will be inputting sensitive information during this process like your date of birth and your address. Finalize this part of the process and go to the next step.
You will be required to provide government identification such as your passport or driver's license. The easiest way to do this is to take a picture of yourself that shows the current date. Never edit your image in any way, then enter your ID image. Make sure it's clear and easy to read.
Choose the ID issuing country, type, and then submit your images.
The verification process is known to take from between 10 minutes and one hour.
Once your information is verified, you will get a notification that you have successfully verified your identity.
More verification will be required for the USD markets.
This requires that you go to the area in your account to request access to USD markets, which is only accessible to certain people.
Your bank account information and trading volume will be needed.
You may have to wait one day to a week even before USD markets are enabled on your account.
Top-rated Crypto Trading Bots
Final Thoughts
While we know that Bittrex is a safe cryptocurrency exchange, we do want to make sure that you understand that a few people have experienced issues like having their accounts frozen.
That said, you need to steer clear of any suspicious activities to avoid such issues. If you partake in any activity that raises the algorithm's red flags, you could have your digital assets frozen with no access to them at all for whatever period of time, including indefinitely. You never know.
If you are a little overwhelmed by this verification process, we understand that. It can be confusing and complicated at first, but this guide we have written should help you overcome and make the process easier.
The following two tabs change content below.
My diverse background started with my computer science degree, and later progressed to building laptops and accessories.And now, for the last 8 years, I have been a social media marketing specialist and business growth consultant.In my spare time I dabble in crypto and various types of automation.
Latest posts by Jonathon Spire (see all)