The translation services industry has a market size of $9.1 billion.
As both audio and video content has become more prevalent, translation has only become more important. Most businesses now target a global audience, which makes translation a necessary service.
In this guide, we have compiled a list of the 8 best audio translation software in 2022. The list includes both paid and free tools and some of them are aimed at specific industries.
8 Best Audio Translation Software In 2022
Before getting into the list of best translation software, let's understand why translation services are so important in 2022.
Audio Translation Software Use Cases
Translation and transcription are essential in various industries. Let's have a look at their use cases:
Digital marketing: Marketers need audio translation software to handle audio and video content. Transcription and translation at scale are not possible without automated solutions.


Podcast: Podcasts are growing at par with video content. Podcasters are among the most avid users of translation and transcription tools. Even marketing teams are now using podcasts for branded and promotional content creation.


YouTubers and social media content creators: Any creator with a global audience needs translation tools to cater to diverse demands.


eLearning: Online courses and digital educators use audio translation services to translate coursework, curriculums, and lessons into various languages.
Here goes the list of the 8 best audio translation software in 2022:
1. HappyScribe
HappyScribe is one of the most popular translation and subtitle generation SaaS tools on the internet. Digital marketers love HappyScribe because of its simplicity, cost, and ability to choose from human and machine transcription and translation.
Primary Features Of This Audio Recording Tool
HappyScribe is an all-in-one translation, transcription, and subtitle solution. If you want fast results, go with AI-powered translation and transcription services. But if you want a human touch and zero errors, HappyScribe offers that as well.
Using the audio translation tool in HappyScribe is simple. Just upload an audio file, select language, and choose Transcription. Choose between "Machine generated" or "Human-made" transcription. Next, translate an audio recording to a text file by selecting Translate. Finally, export the translated file in your preferred format.
Fast, simple, and reliable – these words define HappyScribe and its services.
Pricing
Transcription: Human-made: €2.00 / minute, Automatic: €0.20 / minute
Translation: €20.85 / minute
Veed.io is another leading audio transcription and translation solution for podcasters, YouTubers, digital marketers, and content creators. Let's check out its top features.
Primary Features
Unlike HappyScribe, Veed does not provide human-made transcription and translation services. Everything is automated, which means the turnaround time isn't much. Here's how it works:
Upload an audio file to Veed.io


Mention the language and transcribe the audio file


Choose your translation language under 'Options'


Download the .txt file


Using Veed is easy, and the service is reliable. The only thing lacking is human expertise at the backend of the processes. Considering how fast your work gets done, it's a fair bargain. Veed also claims 95% accuracy in their transcription.
Pricing
Free – $0/mo


Basic – $18/mo


Pro – $30/mo


Business – $59/mo
Stepes is a smartphone-based audio translation service that enables fast and efficient translation straight from smartphones.
Primary features
Stepes is a complete translation service provider. Be it video transcription or documentation translation, Stepes does it all. However, Stepes provides more of an interpretation service through its smartphone app. When you say something on the Stepes app, it goes to a translator who translates the sentence and repeats it back.
Stepes is a reliable translation service for business meetings and conferences. However, it may not be as useful in content creation and marketing.
Live over-the-phone interpretation is a crucial service for meetings with international clients. In that sense, it comes in handy for marketers as well. But content creation or redistribution through Stepes is not very easy.
Stepes also provides a standard online translation tool along with a chat-based translation service. So if your needs are specifically around translation, Stepes is a good choice.
Pricing
Price upon inquiry
Podcasts are fast-growing as an entertainment and content marketing medium. Podcastle.ai covers everything podcasters need, including audio translation.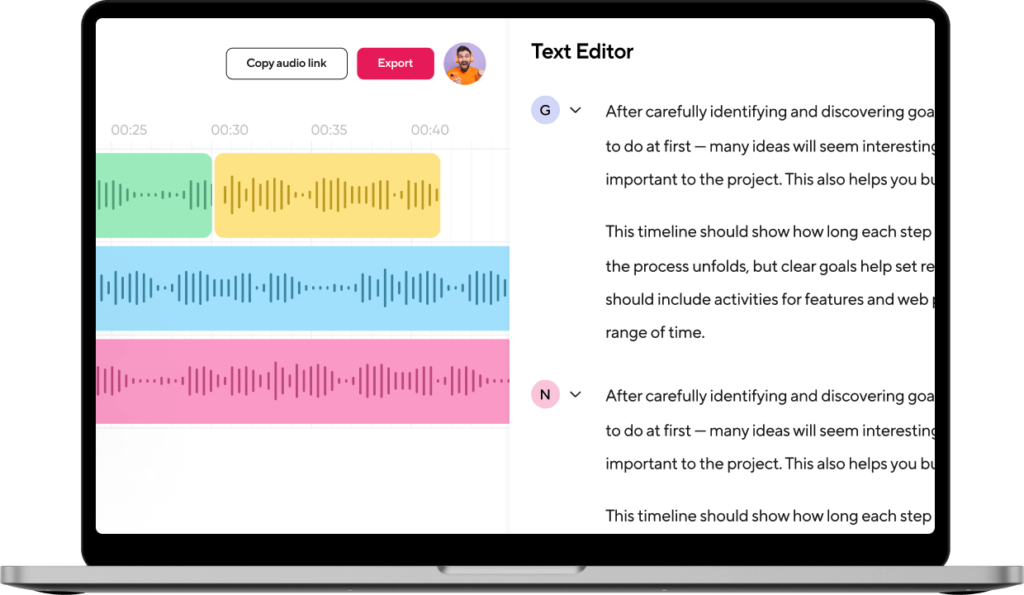 Primary Features
Podcastle uses automatic speech recognition to translate audio files into text quickly. The interface is easy to use and understand. All you have to do is upload an audio clip, translate it, edit it, and then download the file. Since there are human processes involved, everything is done in minutes.
The built-in text editor at Podcastle is a convenient way to correct any mistakes in your transcription. Since Podcastle handles both transcription and translation, you wouldn't need any other tool to access the text file.
Podcastle is a complete podcast creator tool. It has plenty of resources for podcasting and podcasters. If you primarily use audio transcription and translation for podcasts, Podcastle is undoubtedly the best tool.
Pricing
Basic – $0 (No credit card required)


Storyteller – $11.99 per month


Pro – $23.99 per month
Sonix is a translation and transcription tool aimed at content creators, marketers, and video editors.
Primary Features
Sonix.ai does not use human-made translations or transcriptions in any of its functions. It's a simple audio transcription and translation tool that works like a charm. Sonix boasts to be "the most accurate automated service" for transcription. As far as reliability is concerned, Sonix is the closest you can get to a human expert.
Sonix supports 35+ languages, and you can export your files in PDF, TXT, or .docx. The transcription intelligently separates two or more speakers, and the built-in web editor makes editing seamless.
While Sonix doesn't offer anything beyond translation and transcription, it does a great job in what it does. The tool is fast and reliable, apart from being extremely affordable.
Pricing
Standard pay-as-you-go transcription: $10 / hour


Premium transcription with advanced collaboration tools: $5 / hour plus $22 per user per month


Enterprise high volume transcription with advanced user controls and billing options: Price on demand
Tomedes is a translation, transcription, and subtitling service provider based out of Boston.
Primary Features
While Tomedes uses elements of automation in translations and transcriptions, it is primarily driven by experts from respective fields. Tomedes is a leading name in the translation and transcription industry and some of its clients include Amazon, Bloomberg, Spotify, and Microsoft.
Tomedes doesn't offer direct audio translation, which makes it unfavorable for many creators and marketers. However, it does offer professional video translation and transcription that you can trust.
Tomedes claims a 97% client satisfaction rate, and you can experience the high-quality work that the translators and transcribers do behind the scene.
Tomedes supports more than 100 languages and offers services like documentation translation and website translation. It's a good option for high-value projects where you can't afford to have any mistakes.
Pricing
On-demand
Pairaphrase is a translation and voice-over tool geared towards online educators and eCourses.
Primary Features
Unlike the other tools on this list, Pairaphrase is not primarily for creators and marketers. Its functionalities are closely linked with providing voice-over for online courses. It can help educators reach millions of people without going through the cumbersome process of manual translation and transcription.
The Pairaphrase Translation Wizard is the underlying tool that allows the software to provide quick and accurate voice-overs. You can easily translate files from text-to-speech and download them in mp3 or wav formats. Using Pairaphrase is easy and anyone can create voice-overs using the software.
Pairaphrase also takes special care of user data and is the perfect tool for translating confidential documents.
Pricing
Tokyo: 600,000 Words Per Year & Up To 2 Users – $3,399


Paris: 12,000,000 Words Per Year & Up To 5 Users – $5,988


Hong Kong: 36,000,000 Words Per Year & Up To 10 Users – $10,999


New York: 72,000,000 Words Per Year Up To 25 Users – $19,999
Google Translate is the world's most popular tool to translate speech and text.
Primary Features
No list of translation tools can be complete without mentioning Google Translate. The trusted translation tool for millions of people, Google Translate has come a long way from being a novelty.
Today, Google Translate is as functional as any other translation and transcription tool. It can auto detect audio language, transcribe speech automatically, and translate it into any language.
Google Translate is undoubtedly the easiest to use among all the tools on this list. However, we must remember that Google Translate is not for enterprise-scale projects. Google Translate is the quickest way to translate an audio clip or text file, but businesses will find it lacking for bigger projects.
Pricing
Google Translate is free to use.
Conclusion
Audio translation is a much-needed service for marketers, YouTubers, social media influencers, and content creators.
With the advent of SaaS audio translation software, translating audio into other languages is easier than ever.
We hope this list helps you find your preferred translation and transcription tool. Narrow down your use cases to better understand which software is the best for you.
The following two tabs change content below.
Latest posts by Ella Marcotte (see all)