What is Instagram automation all about?
Well, Over the past few years, I have launched many companies and have been involved in various other start-ups.
While not everything I've spent my time on has been a huge success, I have picked up a lot of experiences through doing all of this.
Identifying problems and finding solutions to better the process.
One of the biggest mistakes that I continue to remember is to live every day to the fullest and not waste time on things you can outsource.
We have very little time to make a big impact. What I'm trying to say is, is that time is important, and wasting our time on things we can automate can kill our growth in life.
So with that being said, if I can automate a task, I take full advantage — that way we can be completely focused on solving the problem at hand while still reaping the benefits of those complementary activities.
Social Media Marketing is an excellent example, that can be ROI positive for both businesses and influencers (Many now doing it as a full-time job!).
But it can take enormous amounts of time by focusing on real growth. I still believe that it is important to have an online brand presence; I just think we should spend as little time as possible dealing with tiny complexities that do not really return any value (especially early on).
Rather than fighting the system, I recommend automating as much as possible using Instagram automation tools we all have at our disposal, I've done a lot of research and testing, and there are dozens to choose from!
Best Instagram Automation Tools 2023
I have played with and researched a plethora of Instagram automation tools, here are my top ones.
1. Kicksta – 100% Real Followers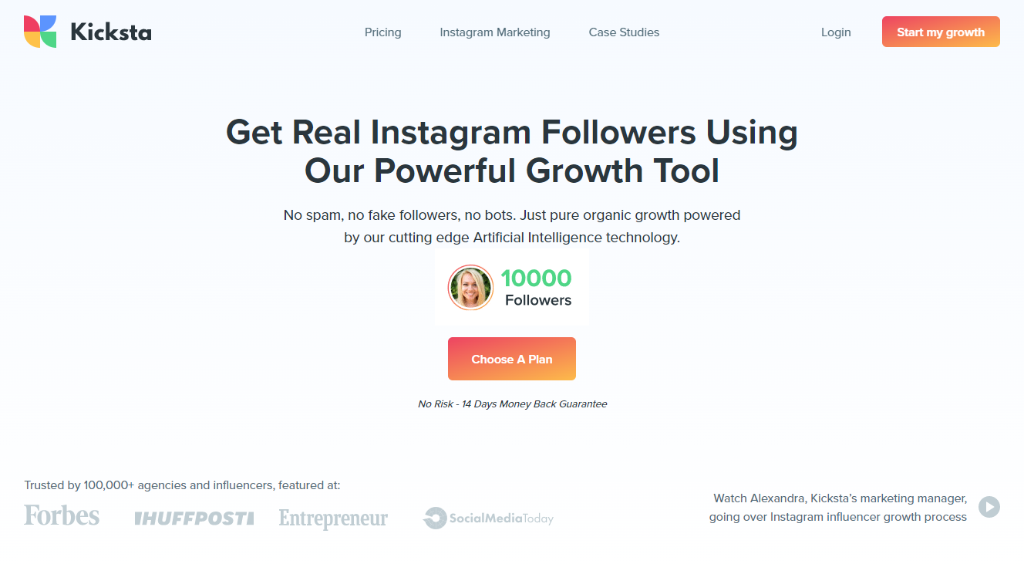 As you know, there are Instagram growth and engagement services that range from great to terrible. Somewhere in the middle, maybe closer to great, is Kicksta.
We have placed it in the good column because it does seem to be safe and somewhat reliable. It gets average reviews on Trustpilot, and Scamadviser says the website is safe and poses no risk.
This one happens to claim it can deliver explosive social media growth. Some of the reviews we read seem to concur with this analysis.
This website is transparent, which is something we can appreciate. You know what you're getting and how much you're paying for it.
We feel pretty confident that the followers and engagement you get from this system is real. We still advise that you take precautions when engaging with these kinds of services.
2. Nitreo – Popular Instagram Automation Bot
If you're hoping to find an Instagram automation tool that not only cares about making a profit but cares about the welfare of their clients, then you need to check out Nitreo.
This personable, affordable company can help you with everything to do with your Instagram – organically.
They have a super-easy signup process, and they also make sure that their targeting is niche so that you get the kind of people who are really going to be interested in your content. They have excellent customer support as well and are always there for their clients.
Honestly, it's pretty hard for us to find something that we don't like about this company, so keep on keeping on with them. 
3. UpLeap – Grows Your Account Faster
UpLeap used to be okay to use, but it has since fallen down the abyss. While it wasn't considered totally safe, it also wasn't considered the biggest risk. Now, it's a risky service.
The website claims to sell you followers, but they aren't real. They also claim to help you grow your Instagram account faster.
To their credit, there doesn't seem to be any indication on the website whether the followers are real or not. So, they aren't telling fibs about the followers. However, a novice looking for engagement services might not know the difference.
This company considers itself to be the cheapest option out there, which isn't to their credit. Cheap engagement is usually one of those things where you get what you pay for.
This service is going to the defunct section for the above reasons, but also because you cannot even gain access to their Trustpilot page because it says it's not a good fit for the page. Scamadviser reports the site as suspicious.
Proceed with caution.
UseViral isn't prone to place your social media accounts at risk. This system of social media growth and engagement is unique because it has a huge network of partners to engage with your content.
They bring real engagement and followers to you without the massive risk. This is a high-quality service with a professional support team who are ready and willing to help you when you need it.
With today's challenges with growing and engaging on social media, a little help can go a long way to giving you an edge. It's also less expensive than most others out there. Just remember to always use these services cautiously and carefully.
UseViral has gotten some less than good reviews lately, so be aware of that. It could mean they are using bots instead of what thy claim to be real followers.
5. FollowersUp – All-In-One Social Engagement Tool
FollowersUp is one a social media marketing and growth service that is self-proclaimed to allow you to consolidate all your social media from one place. We believe this site and service is okay, but it does post some level of risk.
FollowersUp can be somewhat compared to Media Mister since it caters to a wide range of social media websites.
It does get some positive reviews on Trustpilot, but Scamadviser gives it a mediocre trust score and says it may be risky.
6. Inflact – Instagram's Marketing Toolkit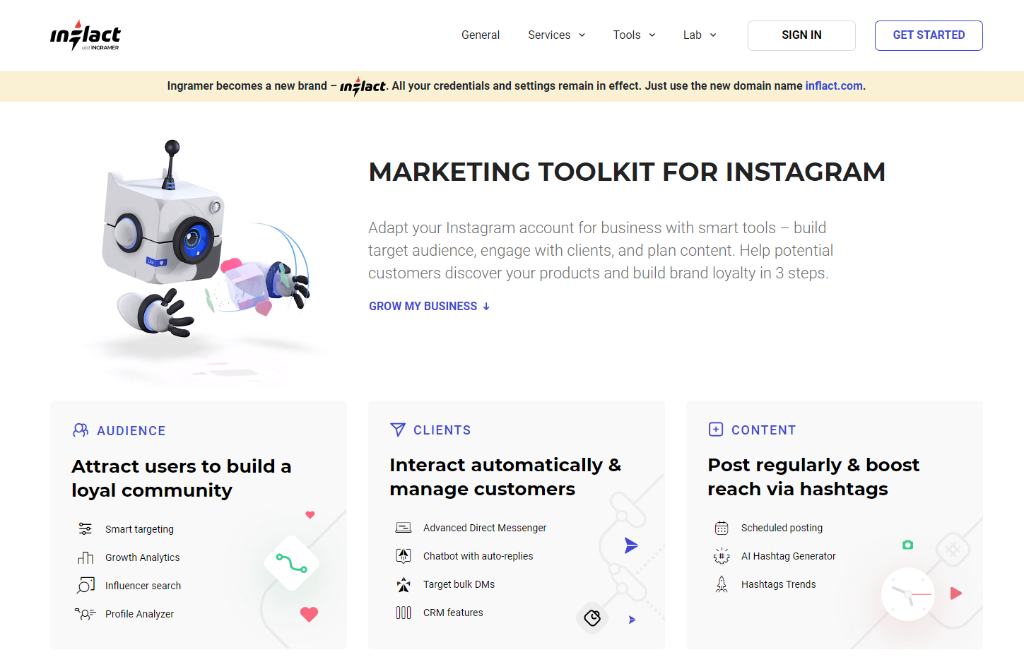 This company claims to be twice as effective as others in the industry. If that's true, you can expect good things from Inflact.
This service offers automated IG activities like post scheduling, likes followers, direct messages, and comments for your targeted audience.
According to the website, it takes only a few minutes to set up and get started with this system. The pricing structure is competitive with other companies.
Their website does feature a comprehensive FAQ section, and they have added safety protocols to protect your information on the site.
Trustpilot's reviews are mostly positive and genuine for Inflact and Scamadviser has reported it as a safe site.
There's a new trend in town when it comes to Instagram automation, and it has everything to do with your hashtags.
You may have already noticed that everyone uses hashtags these days, and one of the reasons for this is that it helps them connect with their target audience.
Task Ant can help you find the best hashtags for your niche through their advanced generator. They are the best hashtag generator on the market, period.
8. Media Mister – Automated Instagram Engagement
Media Mister might be one of those brands that you've already heard of, because they are pretty well known in the industry already.
This is because they've been around for a while, and have been helping their clients with their growth for a long time.
The best part is that like some of the other brands on this list, they can help with other platforms too, and have specialized services based on which channel you need help with the most.
9. Ektora – Sophisticated Instagram Automation Service
If you're someone who likes to keep up with the play and is always on the lookout for the next best thing when it comes to your Instagram automation, then you need to check out Ektora.
These guys are a sophisticated service. You're not going to find a better deal out there than this.
10. Follow Adder – Automated Instagram Followers App
Follow Adder is another company that you might have already heard of before, mostly because they've been around since the very beginning.
This means that they know pretty much everything there is to know about Instagram automation, and the best part is that they haven't changed their prices too much since they first began.
They have served millions of customers already, and are a fan favorite when it comes to being simple, yet effective.
11. SidesMedia – Get Engagement Automatically
SidesMedia is one of those companies that comes with a high standard, so if you happen to hold your Instagram profile to a high standard yourself, we think that you're going to have a good time with them.
They can help you find the right people to check out your brand, and they can also help you find real people, which isn't that common in the industry these days.
Are you hoping to also increase your follower count somehow as well? SidesMedia has got this covered.
They promise to deliver their high-quality content within three days as well, which is a pretty good turnaround time, especially if you compare it to other companies in the industry. They can also help you with your TikTok as well, making them a great all-rounder.
12. Stormlikes – Get Automatic Likes
If you're someone who has a preference for selected and genuine Instagram likes above anything else, then you're going to want to check out Stormlikes.
This Instagram automation tool knows a thing or two about providing the best views, followers and likes for its Instagram clients.
We are impressed with how confident they are in themselves, and think they're a great fit if you take your Instagram growth really seriously.
They say that they can help you with genuine growth only, and don't waste any time with anything that isn't this. They promise that their results are immediate, and that their prices are affordable.
They'll even make sure that they stay in touch with their clients, so that they can feel confident that the company is accountable.
13. Trusy Social – Grow On Social Media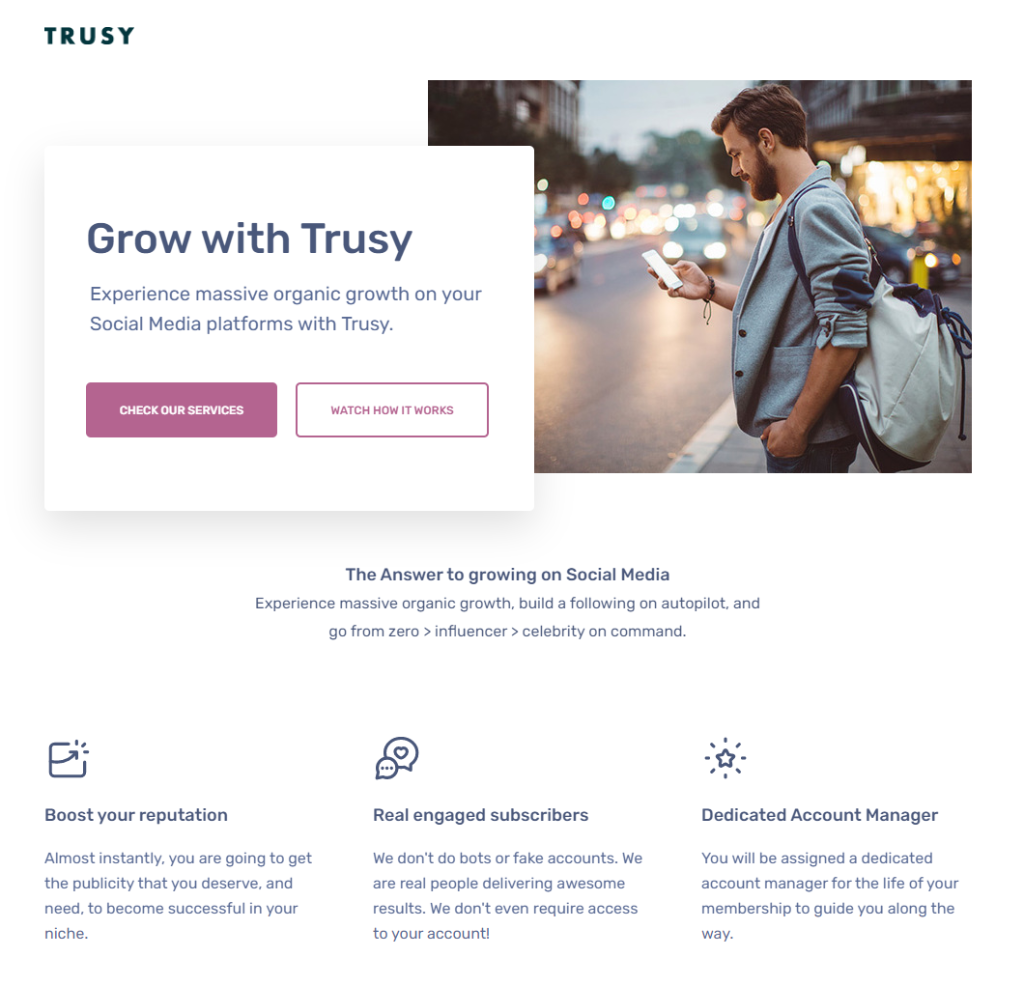 We are placing this social media service in the defunct pile for a few good reasons. We will discuss those reasons here and what the website says about the company.
Trusy Social is an automation tool designed for Instagram. Just like many others like it, the efficacy may not be what you expect from it.
They claim to offer real engagement and no spam, but they don't even have a Trustpilot page where people can leave reviews and Scamadviser reports that it's from a high-risk country, though the website itself has a good trust rating.
It does come with quality customer support, affordable pricing, and tutorials for using the system.
We still recommend that you take precautions with this company if you decide to use it for your Instagram engagement.
14. More Likes – Not Living Up to Its Name Anymore?
More Likes is as its name implies. It's a site where you can buy Instagram followers, likes, saves, and views. Its main claim to fame is the automatic likes option.
The website keeps things simple with a small and easy to understand list of service features. It's said that these features are very effective.
We did find out that More Likes has a low trust score with Scamadviser and low ratings on Trustpilot, so this one may have to be considered less safe and more risky.
It does feature a detection feature that detects when you upload content to your IG account and proceeds to send likes to it immediately. This could be one that is risky enough to be detected by Instagram's algorithm.
We recommend caution.
15. Seek Socially – Best Instagram Automation Tool, by Far!
If you want the best Instagram automation tool out there, then you have to choose Seek Socially. This company is not only one of the most powerful, but they're also completely organic, and they don't mess with bots, spam or fake followers.
They love being able to help their clients get ahead with authentic growth and engagement, and they aren't ready to compromise on this anytime soon.
They target the audiences of people who you are in direct competition with, so that they can be tempted to see what your content is all about instead. Check them out today and see why so many people love them already?
16. Growthsilo- Reputable and Credible Automation
Growthsilo is an outsourcing solution geared toward IG engagement and growth. This is a dynamic Instagram tool that brings good credibility to the table for organic growth help through their easy-to-use dashboard.
This service is backed by people with expertise and experience with Instagram marketing and growth. These are the people who make up the team that is available to help you throughout the growth and engagement process.
You should know that Growthsilo is an industry leader that is safe to use and one of few that deliver results as promised.
You may find that the pricing is competitive, but fair for the extreme value you get through its features.
17. Sendible – Social Media Management for Brands and Agencies
If you have a brand or run a social media agency, Sendible may be a good option for your social media management. Let's see how it stacks up for safety.
Essentially, this company is considered to be a social media manager suitable for agencies. Therefore, if you already have an established online presence, this is a good option for maintaining and growing to prevent lagging behind your competition.
You can try it first before you invest money in it. Pricing covers a range of budgets, so you may be able to find it affordable for your needs. Therefore, it's not so cheap that you cannot trust it, nor too expensive that you cannot afford it.
They are servicing around 20,000 existing clients and that number is growing. When your goal is to streamline your social media engagement, this is a good option to have a look at.
18. Stim Social – Instagram Growth to Increase Your Exposure
Stim Social is for the sophisticated client that desires effective IG engagement and they are willing to pay for that. This system uses automation to attract relevant followers who are interested in your niche content.
This is not a system where you will get irrelevant followers who aren't active and who don't care about your content. You should achieve better engagement through this service.
This company is similar to Jarvee and includes a 5-day free trial, so you can decide if this is going to work for you. You don't have to provide a credit card to give it a go.
Trustpilot's reviewers give this service a 3.9 out of 5 stars, which is pretty good. Scamadviser reports that this website is safe and free from risk.
19. Social Sensei – Instagram Influencer Marketing
The popularity of influencer marketing is big business on Instagram. You will also see influencers on other social media outlets, but Instagram is a major venue for this kind of marketing.
Social Sensei appears to be safe to use and gets positive Trustpilot reviews and a good trust score from Scamadviser.
This service goes month-to-month with no subscription required, so you can cancel it anytime. You get a dedicated account manager and quick customer support response.
This company takes social media organic engagement seriously. They also take customer relations seriously, which means you shouldn't have problems getting answers in a timely manner when you need them.
The app works for you around the clock, saving you time and effort.
20. Combin – Automated Instagram Marketing
For all of your Instagram marketing and content planning solutions, just look to Combin.
If you need a growth service as well as an Instagram scheduler, just check out Combin for everything to do with Instagram automation.
One of the best features that this company offers is the ability to help you manage more than one account at once.
You can also easily communicate with your audience through them, and track your growth and activity easily. What's not to love about these guys?
21. Jarvee – Automated Engagement Software
Jarvee is yet another company that has been around for a good while now, which means that they are pretty much experts in what they do.
They love the idea of being able to help each and every one of their customers get ahead on Instagram, and you can do so through their sophisticated Instagram features.
As well as being able to offer rapid growth, their customer support is avialble 24/7, to make it easy to get in touch with them. Download them to your desktop today!
22. Hootsuite – Instagram Automation & Scheduling
If you have had a bit of experience in the Instagram automation tool industry already, and think you know everything that is out there, then we suggest that you try out Hootsuite.
Hootsuite is not for the faint-hearted, because it can be quite complicated if you're a newbie. The great news is that they can help you manage everything from one place so that you can get all of your engagement sorted while creating more content for each platform.
They can help you see your insights, so you know what's working and what's not. They can also help you engage and monitor as you scale your brand across different platforms.
Lastly, they can protect your brand as you continue to grow it on social media, and ensure that their security is top-notch. There's nothing quite like an experience automation tool for Instagram to help you get ahead.
23. Falcon Social – Social Media and Customer Management
If you are looking for a social media marketing platform that incorporates social media and customer experience management, then Falcon Social might work for you.
This platform gives you the ability to manage multiple social media outlets and is ideal for medium to large businesses and brands.
The goal of this service is to boost your engagement and presence across social media and online.
The system is cloud-based and easy to use. After you log in, you can do the following:
Create new content
Schedule content
Publish content
Engage with users and customers
Monitor your performance
Make adjustments as needed
From the website, you can request their demo to try out the system. The reviews on this service are mostly positive and are easily found online.
24. Tailwind App – Instagram Analytics and Scheduling Tool
Tailwind is a popular app used for Instagram and Pinterest as a marketing and post scheduling tool. Likewise, you can uncover how your content is performing with the analytics function.
The Tailwind app is much like Hootsuite because you are creating content and setting it to publish on a date you choose.
From the app, you can also engage with users from the dashboard with your Instagram account.
In case you are unfamiliar with this service, it's trusted by more than 200,000 brands and agencies.
You can get started for free without having to share your credit card information with them. After the free trial, you will choose the paid services you want.
Trustpilot's reviewers have helped to build Tailwind's reputation to a 4.5 out of 5 stars, and Scamadviser gives it a healthy trust score.
We don't think you need to worry about any risk with the Tailwind App.
25. Ampya – Amp Up Your Real Instagram Follower Game
Ampya has been around for several years and has built a reputation of reliability and performance. It's a company that keeps up with the times and preserves your credibility on Instagram.
This team of professionals behind the service are capable of helping you get real followers who are truly interested in your content. In other words, your target audience and the people you need to help you grow.
They offer a 14-day money-back, no questions asked guarantee because satisfaction is their number one priority. They have a goal to make sure you can safely and effectively grow by helping you get the right followers.
Defunct Instagram Automation Tools
The following automation tools and services are either shutdown or are no longer recommended (not working).
26. FanBump — Instagram Automation at It's Best
FanBump is the leading platform for automating your Instagram presence, their aggressive approach to quickly helping you gain thousands of followers, they target users you should follow by username, hashtag, location and other metadata to find people who are likely to follow you back.
You can further refine the targets to match your intended audience, using descriptive filters such as gender and popularity.
27.Stellation Media – Instagram Automation Dashboard
If you need one of the best Instagram automation tools on the market, then you need to consider checking out Stellation Media.
Honestly, in our experience, they are one of the best, and this is because they can help you with so much more than just your Instagram automation.
They know that your brand is going to be across the board, which is why they can offer support and help with other platforms as well, including your website.
Stellation Media even offer a free consultation, so you can tell them everything that you need.
28. SocialShop — Grow your Instagram followers
Boost your Social Media, and quickly gain Instagram followers using SocialShop, you can grow a combination of social media platforms using these guys, they are a one-stop shop!
Easily rise up the ranks of Social Media and stand out. SocialShop is a reliable, trusted service provider.
29. GramthGrow — See your Instagram surge
GramthGrow is a growth agency that helps you expand your reach by providing a "tailored Instagram growth strategy."
They give you an account manager who works with you to refine your Instagram advertising campaign so that you are interacting with the right target audience. You don't have to install anything to use them.
30. Managed.Social — Real growth from real people
After answering a few questions about your current brand presence, Managed.Social helps you "automate" your brand's following by providing custom techniques you can leverage to scale your brand.
There are no downloads or complicated settings — their growth managers do it all. They help you target users by industry, size and style.
31. Socially Rich — Get 1000 followers quickly
Since there are hundreds of millions of followers on Instagram, it can be hard to find your customers.
Socially Rich provides you with a list of users that fall in your "desired audience." Influencers, small businesses and personal brands use Socially Rich to connect with customers.
Relaxed Social will interact with hundreds of users each day on your behalf.
They make sure people only follow you if they are interested in you or in what you have to offer. Since these are users who show actual interest, your engagement rates should also increase.
33. Popamatic — Get an Instagram assistant
Popamatic will automate your Instagram profile for you using their "Popamatic Assistants."
These assistants get customers real Instagram likes and followers by talking to the people who are most likely to fall in love with your brand.
They claim: "It's like having a social media agency without the big price." This is a reliable way to buy active Instagram followers
34. Social Growth — Automated Instagram growth software
Social Growth engages with your target audience via their extremely powerful hashtag and location targeting.
They use their software managers with over 11,000 Instagram accounts, running simultaneously. Social Growth offers stable, secure and reliable growth solutions to help you reach your Instagram goals.
35. Robolike — Simple Instagram liker tool
Robolike lets you set tags that are relevant to your profile or to your target audience. Their app auto likes photos and tweets on behalf of your account. Over time, you'll gain real followers from the interactions, and your following will grow.
36. SocialMeep – Social Media Engagement Bot
According to the website, SocialMeep is a bot that provides organic looking engagement for Instagram. They claim to offer a team of experts that keep your account safe from getting suspended or banned.
With the most recent information about bots and automation, it's unlikely that this service and others like it are working at all.
Though this one is in our defunct section of this review, we want to make our readers aware of the former bots and automated tools that have quit working.
That doesn't mean you cannot try it, but we advise caution.
37.FollowingLike – Flexible Social Media Engagement
FollowingLike is another somewhat wishy-washy service that may or may not be working for social media engagement.
That said, it's supposed to have some advantages like flexibility, and it can be used to manage multiple accounts. That's why we won't recommend or discourage its use.
While we wouldn't use it for our social media engagement due to the risk of not working, we cannot claim it doesn't have its advantages.
We just advise you to protect yourself and proceed with caution.
Instagram Automation Wrap Up
So, there you have it – a comprehensive list of some of the best tools out there for your Instagram automation.
It's a big wide world out there as you already know, which means finding the best tools for your Instagram automation is definitely not a small task.
You've got to know where to look, and what to look for. Otherwise, you could end up getting ripped off by a company that wants to take advantage of your naivety.
Note the features that we have talked about in this list, and make sure that you don't settle for anything less than the best.
There are too many companies out there that can harm your reputation, so you've got to tread carefully in your quest to find the best.
Check out their free trials if they have them, and good luck!
The following two tabs change content below.
My diverse background started with my computer science degree, and later progressed to building laptops and accessories.And now, for the last 8 years, I have been a social media marketing specialist and business growth consultant.In my spare time I dabble in crypto and various types of automation.
Latest posts by Jonathon Spire (see all)