WhatsApp has over 2 billion users making it one of the most popular social media channels in existence.
It came into existence in 2009 with a strict no-advert policy, something that still applies today.
Of course, there are still plenty of ways for people to advertise what they are selling, you simply need to develop the right techniques.
However, the app is mainly designed to allow you to send and receive messages and phone calls across the globe for free.
The service is fast, efficient, and secure.
Naturally, being able to communicate securely and share files with others makes this an ideal way for people to share secrets, have affairs, and conduct other business they don't want you to know about.
Although the app is secure, it is still possible to get to the messages.
If you're worried about how your spouse is behaving or what your child is doing online, you'll want to learn how to hack WhatsApp accounts.
How To Hack WhatsApp Without the Password
The simplest way to get into Whatsapp is to use a dedicated app. There are several good options on the market but the best is xMobi.
Here's what you need to know:
There is a good reason why most people think of xMobi as the top spying app. In short, it has an impressive collection of features, is affordable, and is very easy to use.
It's also secure, ensuring that the target won't know you're hacking them.
You'll need to visit the xMobi website on your own device and create an account. Once you've done this it will be necessary to sign up for your chosen subscription.
The longer you sign up for the cheaper it gets.
Once you've signed up you'll be sent an email with a link in it. This allows you to download the app and you're going to need to do this on the target device.
Android Phones
If you're dealing with an Android phone you're going to need direct access to the phone.
That means using it while your partner is in the shower or otherwise engaged.
Once on their phone, open a browser and paste the download link into it. Hit enter and click yes to download.
The app will download into the phone and vanish. It hides inside the operating system, making it almost impossible to find.
You can then close the browser, perhaps making sure the history is deleted.
Then, on your own phone or computer head back to the xMobi site and log in with the credentials you just created.
iPhones
If you're dealing with an iPhone you'll still need to create an account on the xMobi website.
However, once you've subscribed and got the link you can install it on the device remotely, via the iCloud.
Of course, you'll need their iCloud credentials to access the cloud and confirm the installation.
You'll be able to see the dashboard and access an array of features:
Access WhatsApp
xMobi allows you to see all messages, to and from, the phone. You'll be able to see all the content which will help you identify any issues.
In addition, you can see all the other social media accounts linked to the phone.
Check Phone & SMS
The dashboard gives you a simple link to show you phone calls made and received by the device. This includes the time and duration of each call as well as contact details.
The same is true for the SMS messages.
View Location
Thanks to GPS it is possible to track the device, allowing you to know where they are and where they have been. That's great for peace of mind.
It also allows you to set locations and be alerted if the target visits these places.
Browser History
Naturally you'll also be able to see every website your target visits and the ones they frequent the most.
You can check their WhatsApp activity at any time, all you need is internet access and your login credentials.
Of course, there are several other tracking and hacking apps worth looking at:
Best WhatsApp Tracking Apps 2023
mSpy is another viable option. The application has been in existence for years and allows you to spy on any device, giving you access to WhatsApp and other social media sites.
The hacking process is the same as for xMobi.
You'll need to create an account and install directly onto an Android phone or via the cloud for an iPhone.
You'll then be able to login and access all the messages in WhatsApp, including any videos and images that have been sent or received.
Of course, this app does more than just allow you to hack WhatsApp. It also gives you access to any social media site used via the phone.
Alongside this you'll be able to track the location of the phone, look at all their media files, and even check the phone and SMS logs to see who they have been calling and messaging.
mSpy includes a keystroke logger and allows you to record the screen, making it easier to obtain proof when needed.
You can use mSpy with any Android or Apple device, installation is the same as for the xMobi app.
eyeZy gives you an exceptionally easy way to monitor WhatsApp.
Once installed you'll be able to select WhatsApp from the social media menu and see every post and comment made.
This includes knowing who they are talking to and who is trying to talk to them.
As well as seeing the conversations you'll be able to access any images and videos that have been sent with the app.
Naturally, it's not just WhatsApp you can monitor, eyeZy allows you to monitor all the social media apps your target is on, ensuring you know exactly what they are saying or feeling.
eyeZy also allows you to monitor phone calls, SMS messages, track their location, and even look at the media files on their phone.
It's the best way to ensure they are staying safe online.
As with the other apps, you'll need to create an account and subscribe to a program before you can install eyeZy.
However, there is an easy to follow installation guide to ensure you're up and running as fast as possible.
3. Cocospy
Cocospy allows you to spy on all of the target's WhatsApp activity.
That means reading all their messages, checking when messages and files were sent, and viewing all images and videos sent and received.
There is no need to jailbreak the phone when using Cocospy, it's simple to install and easy to use.
In fact, the process for installing this app and other apps is effectively the same as when using xMobi, you just start from a different website.
Cocospy has potentially the easiest to use dashboard.
Everything is where you would expect it to be, allowing you to check the activity on the WhatsApp account in seconds.
It's worth noting that Cocospy saves WhatsApp archives to their own servers, allowing you to access conversations after they have been deleted on WhatsApp.
This includes images and videos sent.
Cocospy also allows you to see the phone calls and SMS messages on the device.
Alongside this, the app will let you check other social media accounts and even verify where the target phone is.
When you're logged into Cocospy you'll see a social apps section, select this and then choose WhatsApp to access their WhatsApp account.
4. Hoverwatch
Hoverwatch is a particularly appealing way to hack a WhatsApp account because it offers a free trial of its app.
This allows you to install it and test the basic features before signing up for the paid version.
There are a lot more features when you opt for a paid subscription.
Hoverwatch installs secretly on the device, ensuring it can't be found. The installation process is the same as for the other hacking apps.
If you're dealing with Android you'll need the target phone while you can install to an Apple device via the cloud.
Once installed you'll be able to see all the messages and media files coming and going in their WhatsApp account.
You'll also be able to check other social media accounts to see what has been posted.
It's exceptionally good at giving you Snapchat information, despite the fact that Snapchat messages quickly delete themselves.
You will also be able to monitor SMS messages, phone calls, and even record calls.
Alongside that, Hoverwatch allows you to see a complete internet history, including the most recently and frequently visited sites.
Of course, you can track the phone, ensuring you know where the phone is and where it has been.
A nice feature on Hoverwatch is that it will alert you when a sim charge has been changed in the phone.
This is a common tactic to help ensure you don't know what your partner is up to.
5. Spyic
Spyic is possibly the easiest route to WhatsApp messages.
You can sign up on their website for a free account and then download the Spyic file to the target phone.
It's still necessary to download directly to an Android phone or via the cloud, with the proper credentials, to an Apple product.
Once you've installed the app on the phone you can log into your own browser. You'll find a WhatsApp link on the access platform of your hacking app.
Select this and you'll instantly be able to see all the messages going back and forth on the app.
All WhatsApp messages are presented in chronological order and the time of the message is included.
This makes it easy to see when conversations begin and end.
You should note that Spyic instantly records all posts, ensuring you can read them even if they have been deleted.
You can also check the phone logs, see who has been messaging, check media files, and track their location through the app.
Features are limited compared to the paid subscriptions but it's a great introduction to what is possible.
6. XNSPY
Finally, you should take a look at Xnspy. This app is designed to show you all the calls and media sent on WhatsApp from your target phone.
It also displays anything the target has received.
This includes time and date stamps, allowing you to see the progression of a conversation or relationship.
You can also check out an array of data concerning the sender of any message.
As with the other hacking apps, you'll need to create an account and then download the app.
This app costs but you can view a live demo which will help you understand how useful this app can be when you want to track someone on WhatsApp.
This app installs the same way as all the others, there is no need to jailbreak the phone.
You'll then be able to access the data from your own phone or computer from anywhere in the world. Once installed all you need is a good internet connection.
Of course, the app also allows you to monitor phone calls, listen to the calls, check the location of the target at any time, and even see what SMS messages are being sent and received.
You'll probably like the ability to set alerts and be notified when specific keywords and phrases are searched for or used.
Hacking WhatsApp With A Phone Number
If you're concerned about how you're going to install one of the apps then you may prefer to try a different approach, such as hacking WhatsApp with a phone number.
You'll need to create a WhatsApp account on your own phone. Simply follow the WhatsApp instructions to set it up.
During this process you'll need to verify your phone number. For this to work you'll need to have access to your target's phone.
You enter their number into the verification box. Once you've hit send a pin will be sent to the designated phone.
You need to get to their phone and read the pin then delete the message.
Enter the pin in the account and you'll be able to access the WhatsApp account. You'll have full access to all the features.
However, your login will appear in the log and the target may get an email to say you're in the account.
If you can't delete the message you'll need to be in and out of the account as quickly as possible before the target changes the password and you get kicked out.
Getting Into WhatsApp With Chrome
It's also possible to get into someone's WhatsApp account via Chrome.
Again, it's likely that the target will be notified when you have accessed their device. Proceed with caution.
The first thing you'll need to do is open a web browser on your device.
Now visit www.whatsapp.com
You'll now need your target's mobile phone, point the camera on their phone at the QR code on your device login screen
As soon as the QR code has been accepted you'll be in the WhatsApp account, allowing you to see all their messages and activities
Of course, the target will be told their account has been logged into and your phone will have an icon showing you're using WhatsApp.
Introducing Spoofing
Spoofing has become a common tool for fraudsters. They will create a fake website that looks remarkably similar to the real one.
You'll receive a link from the scammer to verify or change your password.
All you have to do is click on the link and follow the instructions on what looks like the normal website.
In fact, you'll be giving the fraudsters your password details.
To spoof someone you'll need access to their phone, allowing you to remove the WhatsApp application.
You can then check out the MAC address, it's in the general settings under wi-fi address.
Once you have this, install the WhatsApp hacking tool you have created, including an emulator.
You can now change the MAC address on your own phone to the MAC address on the target phone.
You can then log into WhatsApp with the phone number of the target phone. A code will be issued to the target phone, you'll need to enter this into your phone.
You'll then be able to see all the messages and other WhatsApp details on the target phone.
Why You May Need To Hack WhatsApp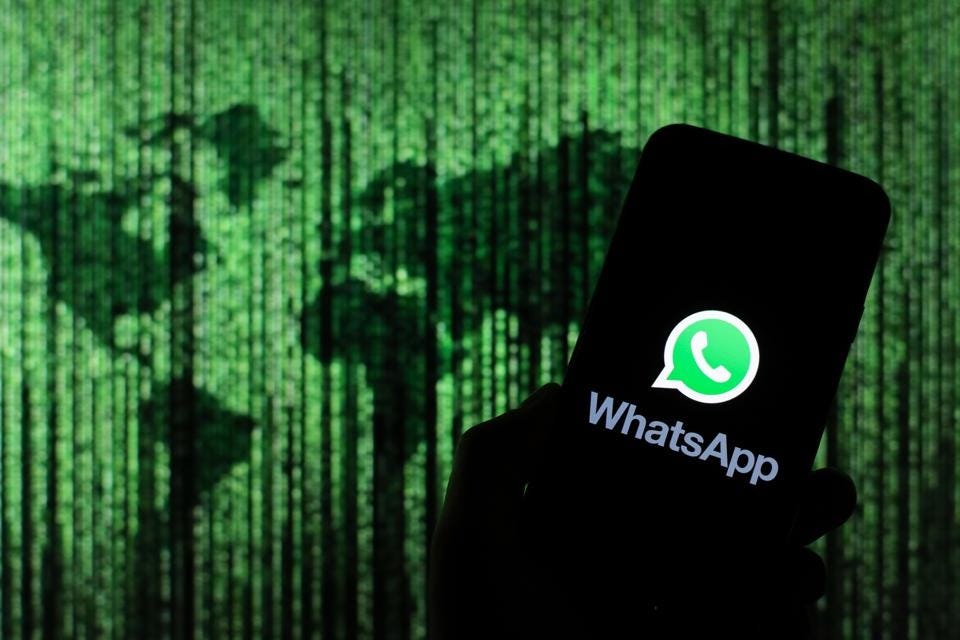 In most places hacking of any sort is considered illegal. You'll have to decide whether what you're doing is for the right reasons or not.
Although illegal, most states will make exceptions for specific reasons, in particular a parent looking after their child.
The most common reasons to need to Hack WhatsApp are:
1. Employer
If you're an employer and you have a particular worker that is often not at work when they should be, you're likely to become suspicious.
Of course, it can be hard to prove that they aren't really sick.
Hacking into their WhatsApp account will allow you to see what they are posting and where they are.
That can be invaluable information when you confront them.
2. Worried Partner
Every relationship goes through difficult patches. It can be due to infidelity, a lack of trust, or a variety of other reasons.
If you're suspicious of your partner or are trying to make the relationship work, then hacking their WhatsApp account can be a great way to rebuild trust or verify your suspicions.
It's questionable how the authorities will see this type of hack but it can be the best way to know whether to continue investing in a specific relationship or not.
3. Parent
This is the reason that is easiest to understand.
Children live in a digital world and spend most of their time looking at various screens, while corresponding with other people online.
As a parent, it can be hard to give your child the freedom they need to learn and grow while keeping them safe.
The internet makes it much harder to keep them safe.
Once a parent knows how to hack into WhatsApp accounts they can use this information to monitor their children's online profile and make sure they are staying safe.
It is the most effective approach without interfering in their life.
Final Thoughts
Choosing to understand how to hack WhatsApp doesn't mean you're about to do it.
But, it does keep this option open and sometimes this is essential.
While there are several ways to hack WhatsApp, the best way is to use one of the tracking and hacking apps listed in this guide. 
These apps offer more than the alternative ways to track WhatsApp's array of features onboard, allowing you to monitor all their social media conversations and keep an eye on their location.
The simple truth is that hacking apps are easy to install and use.
As alternative hacking techniques often require access to the phone, using a hack makes more sense. It's easier to install and provides continual feedback.
There is no better way to ensure the safety of your target than by choosing one of the best WhatsApp hacking apps, as listed in this guide.
The following two tabs change content below.
My diverse background started with my computer science degree, and later progressed to building laptops and accessories.And now, for the last 8 years, I have been a social media marketing specialist and business growth consultant.In my spare time I dabble in crypto and various types of automation.
Latest posts by Jonathon Spire (see all)