If you want to simplify the process of drop shipping when it comes to Shopify, you need to make the most of a Chrome extension called Oberlo.
Oberlo is great for helping you import products right into your Shopify store from AliExpress, with just a couple of clicks of the mouse.
This is why it's now a vital part of your Shopify experience.
Let's take a look at how to add and use the Oberlo Chrome extension so that your life online becomes a little bit more straightforward.
What Do We Mean By Drop-Shipping?
If you're not in the know with the lingo, you might be wondering what drop-shipping is.
Drop-shipping is a business model.
It is where a company that sells a product to its clients or customers doesn't actually store any of the stuck – however, they deliver it straight to their customer.
You're like the middleman between the product and the client.
This means that the product is shipped from where it is produced straight to the client without having to go anywhere else.
It's nice and convenient and can save on overhead.
In the world of e-commerce, it's a pretty big deal.
The good thing about it is that it means you don't have to buy up a lot of stock and risk not being able to sell it.
You can just begin your very own Shopify store, and you don't need anything more than a laptop to do so.
It's also a cheaper way to do things if the products come from places like China.
Oberlo is the kind of software that can automate the finding of the right products for your niche and putting them right into your store.
It couldn't be any easier.
Let's take a look at how to use it.
What is Oberlo?
You can install the Oberlo extension directly to your Chrome browser so that you can make the dropshipping process so easy that it's just going to take a couple of clicks.
The company behind it is Oberlo, and they are known for helping clients import products from places like AliExpress.
Oberlo's Features
So, what are its features, then?
Well, you can expect to be able to directly import your items from AliExpress into the store that you have on Shopify.
You can also order products from a website like AliExpress in a way that makes it super easy and convenient.
In fact, all you have to do is place and then fulfill your order.
They have an auto-fill checkout system, and they help you sort your products depending on your preferred shipping method.
It can even help with bulk orders, which can be a pain to sort out at times.
How Do You Install Oberlo for Chrome?
So, the good and bad news is that you can only use Oberlo for Google Chrome.
This means that you can't use it on your smartphone or tablet, you've just got to work with it within Google Chrome.
However, for most, this shouldn't be a problem.
Find the Oberlo Installation Page and click on 'add to chrome.'
Then confirm that you want to add it to your Chrome browser.
Once it has been added, it will ask you to sign in.
You can either make a new account or sign in with your Shopify account, which is nice and easy.
Once you've done this, you're good to go.
How You Can Use Oberlo for Shopify
Let's take a look at how to use this Chrome extension to your advantage.
How to Add Products to Your Import List
When you're on AliExpress, simply find the product that you want to import, and click on the Orbelo icon at the top of your browser.
Find the option that says 'add to import list' and click on it.
That's it!
Fulfilling and Placing Your Orders
If you are trying to place a single order, you can do so by pressing 'order product' that will be right next to the product you want to purchase.
This is once you have imported products to the order pages.
You will then be guided to the Buy Page on AliExpress, where Oberlo will automatically fill in shipping information and product orders for you.
Once this has occurred, your status will change from 'to order' to 'in processing' within the Oberlo extension, and your purchase is fulfilled.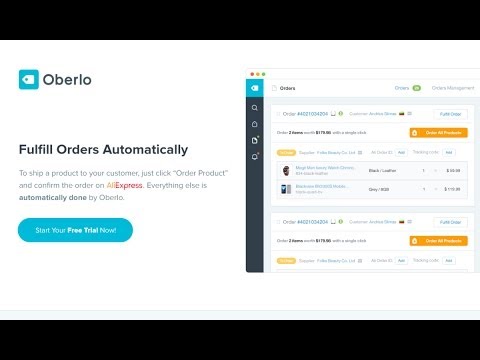 If you are trying to purchase more than one product at the same time, you can do so – but you need to either have the basic or pro plan with Oberlo.
Make sure that all of the products you want are on the Oberlo order pages. Choose the 'Place AliExpress Orders' option.
It will then add your shipping information on the AliExpress order page so that you can go ahead and buy your products.
The Chrome extension also lets you track your products from AliExpress to Orbelo, and it labels the orders that have been fulfilled so that you can stay nice and organized.
Any Additional Shipping Information
One advantage of using Oberlo is that it lets you see the prices of your shipping for each product when you are choosing your preferred shipping method.
This lets you set your preferred shipping method, which it can then use to fulfill orders automatically.
You can always adjust your shipping settings by pressing on the Oberlo icon when using it.
Simply click 'update settings.'
Why Should You Use This Chrome Extension?
As we have already talked about, one of the biggest reasons why you should use a Chrome extension like this is that it can help you drop ship really quickly and conveniently.
In fact, all you have to do is click a few buttons.
The fact that it can automate the dropshipping process is going to save you a ton of time.
We also like that they have a direct link between your Shopify account and AliExpress.
This is unique and a total gamechanger.
How Much Will it Cost Me?
Don't worry – the extension itself is totally free – all you need is Google Chrome to use it.
However, as we mentioned above, if you're hoping to fulfill bulk orders through it, you'll need to sign up for its basic or pro plan, both of which cost a little bit.
With the free plan, you can import up to 500 products.
It also comes with other exciting features, like sales reports, inventory updates, and automated orders.
The Basic Plan is going to cost you $29.90 a month, and you can import up to 10,000 products.
Of course, you can bulk order through it, and get real-time tracking of all your orders.
The Pro Plan costs $79.90 a month and doesn't have a limit on how many orders you can make.
We also like that it can help manage multiple staff accounts, which is pretty cool.
To be honest, if you're just starting out with your Shopify account, the free plan is going to be more than enough.
So, Should You Get Oberlo?
Do we think that you should get Oberlo if you have a Shopify account?
Yes. It's super helpful, and we recommend it to anyone who is trying to import products to sell to customers, but they don't want the stock sitting in their garage.
The entire process is streamlined and made a lot simpler thanks to this super handy Chrome extension, and we love that it has a free plan as well.
Good luck and enjoy using Oberlo for all of your future Shopify orders!
The following two tabs change content below.
My diverse background started with my computer science degree, and later progressed to building laptops and accessories.And now, for the last 8 years, I have been a social media marketing specialist and business growth consultant.In my spare time I dabble in crypto and various types of automation.
Latest posts by Jonathon Spire (see all)