Kicksta Review 2023
Kicksta is on the chopping block today.
What does it take to stand out on Instagram?
If you are hoping to stand out on this wildly popular social media platform, you need genuine, real followers.
The problem is that there are more so-called Instagram growth companies online that sell or deliver fake profiles and followers that are likely to get your Instagram account banned.
Instead of worrying over whether you are getting real followers, learn as much as you can about outsourcing companies that claim to deliver real followers.
However, it's more difficult than you might think to find companies that are genuinely interested in selling authentic followers to their clients.
We think that there are actually a lot more companies out there who would rather make a quick profit, and not see their clients through to the end.
This is a hard pill to swallow, especially if you're relatively new to the industry and don't have much experience in finding the right company.
That is what we're here for, however – to look at companies and determine whether they're worth your time or not.
I am Jonathan Spire, and I am passionate about helping my readers work out from reviews like the one below which companies are worth using for their Instagram growth, and which ones should be avoided at all cost.
Read on to figure out what I think of them in my detailed Kicksta review.
Kicksta says they are an Instagram growth service that provides you with methods that deliver real followers.
They say they can help you connect with other accounts with similar interests and branding via unique methods that garner genuine followers.
Kicksta was born from Kickstagram when they decided to change their name to avoid having "gram" in it. We think that this shows integrity.
They say that they are the most powerful organic growth tool for Instagram in the industry, and judging by what we see we're inclined to believe them.
It's pretty hard to achieve this level of superiority, so companies like this need the features to back it up.
They also need to be able to provide customer testimonials that prove they are what they say they are.
It's not enough for them to just claim this type of thing on their homepage – they have to follow through, and we think we've got the proof.
Kicksta is better than a bot from the get-go. Bots are helpful at times, but overall are just going to get you in trouble with Insta. Insta has been on a warpath recently, shutting down users who are affiliated with bots.
This is why you have to be super careful, and avoid if you think it's not worth it.
Kicksta's Main Features
Their main features are special and unique, as you will see below.
The trouble with this industry is that companies like this are hard to come by, so to find one that really stands out can be hard work. Thank goodness for reviews like this!
24/7 Growth: With around the clock growth, you obviously gain access to a customer service team that is available whenever you need it. This is going to go a long way, especially when you are faced with a problem and you need them to come to the rescue almost straight away.
Customer Success Manager: We believe that their customer success manager is some sort of personal account manager who can help you one on one so that you don't need to use that around the clock support that they talk about above. Again, this is another feature that is hard to achieve than you might think, so we're pleased to see it here. They can't offer one personal manager for every client, so you might still find yourself waiting in the queue for a bit of help. However, the intention is there, and we don't think that you'll have to wait for too long.
Smart Targeting Algorithm: A smart targeting algorithm means that Kicksta wants to learn about your niche and industry so that they can target the right people for your page. This way, you get the right kind of people looking at your content – the kind that are going to be interested in interacting with your content for a while to come. As far as we can tell this is really accurate too, meaning that you aren't going to get random people looking at your content. The intention here is to get as specific as they can about your potential followers.
Smart Filters: Similarly, their smart filters help you find the right people to look at your content, which will also help weed out those that aren't going to be very helpful. We know how effective their filters are, and what kind of filters they use, and with other companies this strategy has been helpful to its clients. The other thing that's good here is that you're not going to get in trouble with Instagram for using this approach.
Data Encryption: Their data encryption feature is their attempt to protect their clients personal information if they choose to share it on the website. This is a great feature to have, and in our personal opinion the kind of feature that every website needs to have – but we're not sure how far it goes. It covers their payment system too, so you don't need to be careful about sharing things like your credit card number. There's always the risk regardless of encryption or not of your information getting hacked, so proceed with caution regardless, but we think that they've got a good level of data encryption.
Safe & Secure: there are different degrees of this when it comes to legit Instagram growth services. Some of them will just cover website security, while others will cover website security and daily limits with their features, so you don't have to worry about getting in trouble with Insta. We think that Kicksta is covering the website security aspects, as well as the Insta aspects.
Analytics Dashboard: Kicksta says that they offer an analytics dashboard, which we presume means that you can see how they're helping your account grow through realtime analytics and trends. This is a good way for them to stay accountable with their clients. It is a good way for you to keep on top of what's working and what's not so that you can adjust your growth strategy accordingly. It is a nice level of transparency to have as well, allowing for the client to stay up to date with current statistics.
These are their basic features across the two plans they offer. There are more features included in their higher-end plan that you will read in the next section.
Top-rated Growth Tools for Instagram
Here's my list of top tools to grow your Instagram account. Did Kicksta make it?
Plans & Prices
Two plans and a simple pricing structure is a helpful element of their website.
1) The Creative
$49 per month
Moderate Growth
Smart Filters
Safe & Secure
Exclusive Video Onboarding
10 Targets
2) The Professional
Everything Included in The Creative Plan
$99 per month
Maximum Growth
40 Targets
Premium Email Support
Live Chat
Dedicated Account Manager
Gender, Hashtag, and Location Targeting
Blacklist
When it comes to what we think of these price points, we think that they are pretty good. They're not too cheap, but they're not too expensive, either.
You always want to try and find prices like this that are middle-of-the-road. This way, you know that you're getting your money's worth.
Is Kicksta Safe? Is Kicksta a Scam?
In essence, Kicksta seems to follow the rules and is definitely a great company, so I have found it is very safe to use.
The biggest thing here for us regarding it being very safe is that, just like we talked about above, Kicksta offers targeted growth with smart filters.
This is a lot better than a bot. We think that other companies are using bots to service their client's growth, which ultimately is going to put their clients at risk of losing their profile and their existing reputation. If you want to avoid this, use Kicksta.
I would take the risk, and the risk is low.
You should look for a reputable company like this to work with to grow your Instagram.
Trustpilot Kicksta.co Reviews
Here are some Kicksta.co reviews we found for them on Trustpilot.
Kicksta Review Conclusion
Users on Reddit say they have found Kicksta's actions to be in line with Instagram's ToS and that it is an incredibly effective way to grow your presence. They also feel it is affordable.
Along with the good Reddit reviews and their reasonable prices, we think that Kicksta is offering a growth service that you want to use time and again.
This is because it's going to pose almost no risk to your account, which is the first thing you need if you're trying to stay between the lines and develop a positive reputation.
Based on the assessments that we've made above, we can recommend a company like this – especially if you're serious about your Instagram growth.
It's much better to go for something that can keep you safe like these guys.
Top Kicksta Alternatives 2023
So, what do you do when you come across a company like Kicksta that is legit? You keep alternatives up your sleeve just in case.
Let's take a look at what we think are the best Kicksta alternatives so that you can have a plan B if something were to happen.
If Seek Socially hasn't been on your radar yet, it's about time that you check it out. This state of the art Instagram growth tool can help you with all the latest Instagram features, like your stories.
Check out their mass story engager, to expand your reach and find the people that really matter when it comes to your content. We promise that with a company like Seek Socially, you won't regret it.
How many times have you tried to find a company that is transparent, honest and upfront about what they do? If you're feeling jaded about most out there, try Nitreo.
This company is great at explaining what they do, but they're also good at explaining what they don't do, too.
They promise that all of their growth is organic, and they wouldn't allow fake engagement to get in the way of your account doing well. They're a top notch company with a lot of accountability.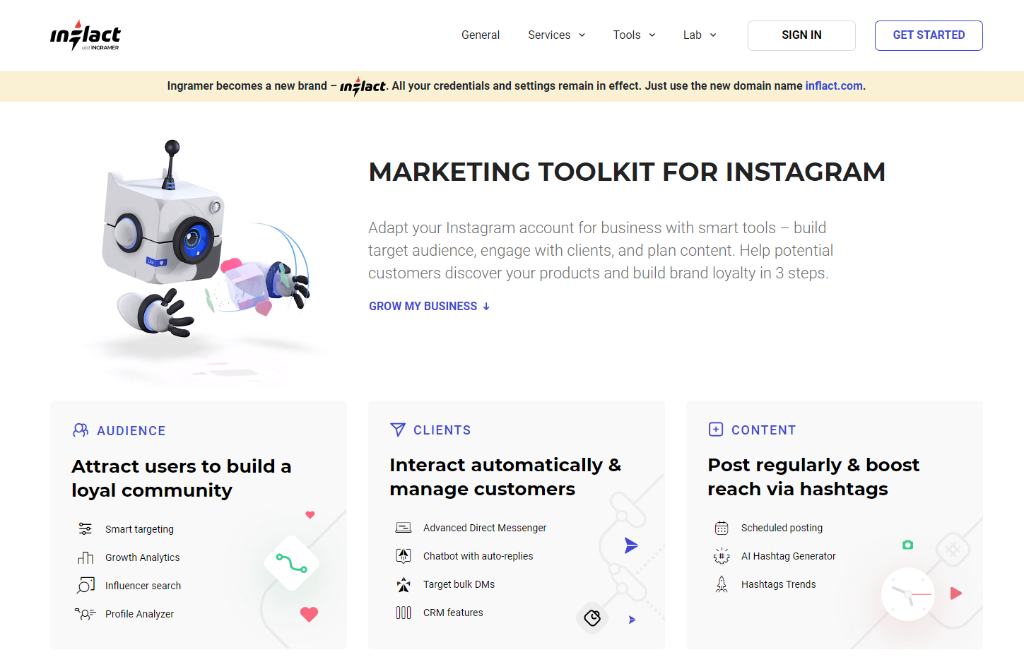 Inflact – this is the company you need if you want a long list of features to choose from. You're someone who doesn't have the time to spend with companies that aren't legit, but also companies that can't offer everything in one.
You want to focus all of your time and energy on your content, so that your engagement can be sorted elsewhere.
Ingramer can help you with scheduling, DMs, hashtags, and growth. There isn't anything this company can't do for you.
Speaking of hashtags, they're an entire industry of their own if you really get down to the nitty gritty of it.
You could spend all day, every day perfecting your hashtag strategy, and if you don't really know what you're doing, not get anywhere.
This is why it's worth calling on companies like Task Ant, that have the experts to get the job done right. They have one of the first hashtag generators, with in-depth analysis.
We are pretty sure that you wouldn't say no to a celebrity endorsing your profile, right? If this sounds like a bit of you, check out Social Clout Club.
This Kicksta alternative has the right connections out there, so that every month they offer their clients campaign options where big celebrities and influencers promote them on their page.
This is an excellent way to get your profile in front of another, huge, audience.
Kicksta Coupon
Have you found a working Kicksta discount coupon? If you have, please share it below.
Have Your Say!
Important: Do you represent this company?
Do you disagree with my review? Sometimes I do make mistakes. Comment below & let me know what's factually incorrect and I'll rectify it as soon as possible.
Thanks for reading.
- Jon
The following two tabs change content below.
My diverse background started with my computer science degree, and later progressed to building laptops and accessories.And now, for the last 8 years, I have been a social media marketing specialist and business growth consultant.In my spare time I dabble in crypto and various types of automation.
Latest posts by Jonathon Spire (see all)