It's highly unlikely that cryptocurrency is going anywhere but up in the future. Already a wildly popular form of digital currency, cryptocurrencies are bought, sold, and traded every day.
One way to go about this is to engage through grid trading bots. What are the best crypto grid trading bots and what do they offer?
The following will cover crypto grid trading bots and which platforms and bots are the best to use.
The list we are sharing below represents the best crypto grid trading bots available on the market now.
The concept of grid trading bots uses a simple strategy that relates to buying crypt los and selling it high. This is not a new concept.
This is a model used by all kinds of traders, real estate investors, retailers, resellers, etc. Buy low and sell high. It really is that simple.
Crypto grid trading bots can place orders for buying and selling based on particular lower and upper values set. If the digital assets fall below the limit, it won't execute further buy orders.
It's common knowledge among professional cryptocurrency traders that grid trading can come with gains via buying and selling at specific price intervals.
This is how many professional traders make the most of a volatile market like cryptocurrency.
Likewise, crypto grid trading bots are also capable of automating grid trading strategies.
The next few paragraphs will be in the form of a list that includes the best crypto grid trading bots for 2023.
Best Crypto Grid Trading Bots 2023
First of all, Pionex comes with 16 free built-in trading bots. It's first on our list because it's one of the best crypto grid trading bots in the market today.
The primary reason for this is that its bots are totally free to users.
There are five variations of grid trading bots offered for free. These bots are based on whatever your needs are.
Pionex's grid trading bots allow you to automate your strategies, so you can set your own price range and the number of grids.
You do have to select the percentage of assets you want to use, which you can do manually or through the AI technology.
The reverse grid bot that this trading platform will let you store your digital assets when prices are decreasing.
When the bot sells your assigned funds at its current level, it will then repurchase them as the price falls.
So, if you feel that the price will fall, you absolutely should use the reverse grid bot option.
It's your responsibility to configure your parameters, which includes the percentage of allotted funds, price range, and number of grids.
You may also be interested in the Infinity grid trading bot offered by Pionex, which is available with their premium service for crypto grid trading bots.
Coinrule claims to make the process of automated trading easy. That is only one reason this bot is on our list.
This platform is out to help its clients to compete with the expert cryptocurrency traders, which means they offer several variations in crypto grid bot trading strategies.
This platform also supports over 10 of the most popular cryptocurrency exchanges and claims to provide their clients with military grade encryption and security.
So, there is nothing to be overly concerned about when it comes to your assets being secure.
Coinrule's clients are allowed to create their automated trading rules 24/7 using the ample historical data based on past and current grid bot trading strategies.
Not only can you get the most from these bots, but you can also learn a lot about proper trades implementation.
Number three in our list of the best grid trading bots for cryptocurrency is Bitsgap. Like the first and second in the list, this one also provides a variety of different grid trading bots to use.
In this case, you get to choose your grid quantity, the price, the exchange, and the upper and lower price limits.
Essentially, you have full control within the limits of the bots. You may also set the percentage of digital assets you want to allot to your trades.
Additional features of this trading bot include stop loss, trailing up, and take profit.
Bitsgaps offers a demo mode so you can try out a trading bot for free without spending a dime.
This platform does have a minimum investment attached to it, which depends on your set parameters. Its minimum deposit is based on grid quantity.
You will also be picking your price based on the stop loss you will use. Once that is triggered, your open bot orders will automatically cancel.
The basic plan for this platform costs $19 per month. The pro package is $44 per month and the advanced package is $110 per month.
Quadency is a well-known crypto trading platform that offers crypto grid trading bots for automatic trading options.
This platform requires its clients to set their own parameters for number of grids, amount per order, when the bot should stop working, the exchange to use, and the distance between grids.
Keep in mind that the higher the grid number, the higher the investment is required.
There are several ways to work with this grid trading bot. For instance, you can recreate a grid based on the exit price to keep trades going.
You do have some control over certain actions. However, if you don't want that control, you can assign it to the bot.
You pay nothing in trading fees as a client of Quadency, so you can open and close your trading positions without paying each time.
You do have to pay when you produce profit, which will come to 10% of all that you earn on the platform.
TradeSanta just sounds like a jolly old crypto trading platform, doesn't it? In some ways it is.
This is a superior quality crypto grid trading bot that wants to show its clients how to trade crypto like a pro. That's why it offers a powerful terminal and trading bots.
It wants you to have options for automating your trades through proven and successful strategies, signals, and bots.
It also desires to help its clients to trade quickly and efficiently without skipping a beat, while maximizing results.
TradeSanta offers a tutorial on the website that helps you learn about how this all works through this platform. It wants to learn the ins and outs about grid trading before you get started.
After you open your account with this platform you get to connect to multiple supported exchanges.
You get to choose from short and long strategies to take advantage of bull and bear markets.
Additionally, you get to use futures and spot trading to capitalize on the cryptocurrency grid trading bots that operate for you 24/7.
6. Binance
Binance has a grid trading bot that is one of the most well-known in the market. It's one of the first crypto platforms in the world and it supports over 300 crypto coins.
Side note: Keep in mind that due to regulations, Binance is not available in all countries. If you're in the US, you will need to see how grid trading bots work on the Binance.us website.
One of the many things we like about the Binance exchange is the vast array and types of bots and features that make it easy to trade your cryptocurrencies.
As of this writing, the only grid trading bot is for futures exchange, which happens to be well suited to anyone who wants to invest in the permanent Futures Trading sector.
Therefore, we don't recommend Binance's grid trading bots for newbies since the way this one works could cause your funds to be liquidated.
7. Huobi Global
Huobi Global is one of the world's largest crypto exchanges headquartered in Asia. This is a great solution for effectively executing grid trading and other strategies that work.
8. Kucoin
Kucoin has earned its worth for this list as a grid trading bot and a very well-known crypto exchange.
It provides users a diverse array of crypto coins. One thing to know is that its liquidity isn't as solid as other exchanges.
The Kucoin mobile app incorporates its crypto grid trading bot, but it's not recommended if you're dealing with a lot of capital since the depth may push you out of it.
The primary focus of this cryptocurrency exchange is the market volatility, so it uses a classic grid trading approach.
These bots can help you execute distinct numbers of buy and sell orders within a wide array of prices.
Buy orders are triggered when the price of an asset falls within one of your selected grids. The sale order will be triggered when the price increases in one of your grids.
Since grid trading is focused on market fluctuations, the very nature of crypto is volatile which is where this strategy may come with higher returns.
9. Altrady
Altrady is relatively new to this market, but we put it on our list for good reasons. It offers multiple trading periods to allow you to perform transactions across markets.
It comes with an automated fund manager to help you track Bitcoin flow across multiple wallets.
Therefore, you can take advantage of precise analyses of your assets and a detailed breakdown of your assets allocation by crypto currency and exchange/wallet.
There is talk about this system offering clients the option for a multi-exchange terminal for trading so you can check out several different charts based on your favorites.
You get to select as many crypto markets as you want that you can then display on a single screen.
The automation of trading on this platform is pretty new to it, but it's still able to help you with everything you need for your crypto grid trading bots.
10. 3Commas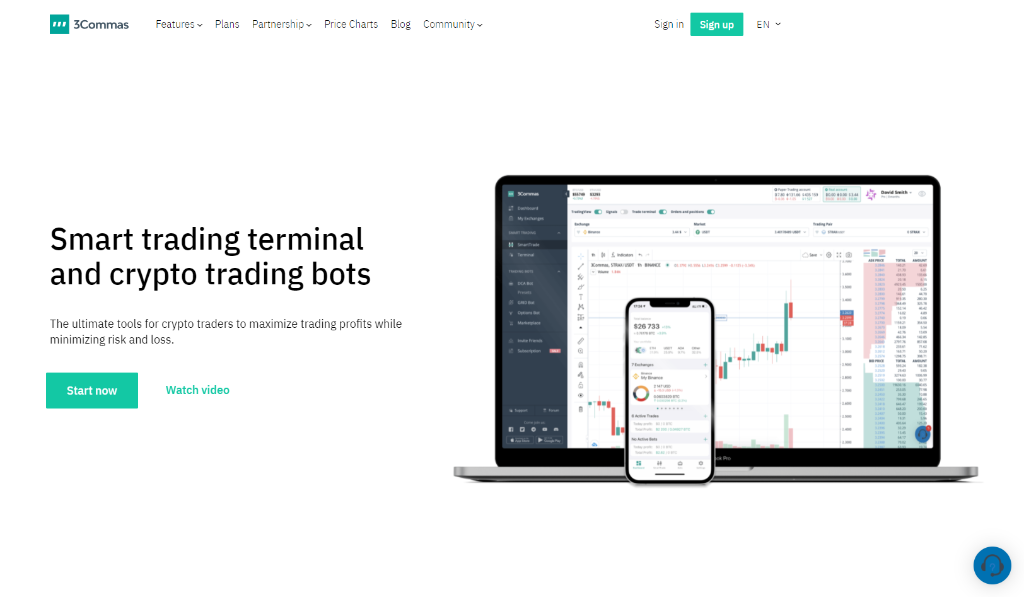 3Commas is an excellent choice for grid trading bots. If you like to test grid bots before investing your assets in it, this is the platform for you.
You can exchange most of the most common cryptocurrencies available.
Clients get to enjoy the benefits of free tutorials and guides created to help you become a master in grid trading.
If you're new to grid trading, these bots offer a way to help you automatically find your upper and lower limits.
Then the bot will automatically analyze the market fluctuations to help mitigate risks.
If you prefer to execute trades manually, you can choose the manual mode and change your price scale, grid spacing, and the number of grids.
11. BitUniverse
BitUniverse is the original of crypto grid trading bots. You will find the interface easy to use, allowing you to easily access the grid bot.
For newbies, this interface is ideal since it's intuitive and mobile-friendly.
The people behind BitUniverse's grid trading bot have ensured that it will connect with most of the major crypto exchanges.
That means you will have access to the supported exchanges via the platform's APIs.
This platform makes it easy to change the settings and parameters, giving you control over your trades and assets. The bots allow for access to over 20 cryptocurrency exchanges.
As of this writing, BitUniverse charges no fees to access the crypto grid trading bot.
12. Gate.io
Last, but not least is Gate.io. This is a very popular crypto exchange that allows American traders to use the grid trading bot option.
Launched in 2013, Gate.io has worked hard to maintain and keep up with the trends and technology associated with crypto trading.
The grid bot strategy has just been added to its platform recently.
There is no need to pay any third-parties since all your transactions occur via this exchange. That also means there is no need to connect to an API because only you can access your assets.
If you're looking for something easy for grid trading, this platform is ideal.
FAQs
What Is Grid Trading?
Grid trading is based on the buy low then sell high methodology. It's used for trading in volatile financial markets, but it's also a concept used in other industries like retail and real estate. 
Once you set up your grid trading bot, or let the platform automatically select your parameters where available, it will buy when a certain crypto is low and sell when it or another crypto coin rises in value. 
How Do You Configure a Grid Trading Bot?
First, you pick your token to trade. You can change your own parameters or use the AI on platforms where it's available.
Build your grid trading bot and then watch the outcome. After you establish your initial grid trading bot, you can view its data and ROI summary.
What Are the Benefits of Grid Trading Bots?
This trading model has been around for a very long time, so the benefits are well-known.
Here is a list of the benefits derived from crypto grid trading bots.
• It's a reliable cryptocurrency trading strategy.
• It's a practical strategy and easy to understand.
• It's highly adaptable in virtually any market, bull or bear.
• It helps mitigate risk giving you control of your assets and gain or losses.
• It aids in automated trades to make it more flexible and versatile for traders.
Is Grid Trading Legal?
Yes. Crypto grid trading is a legal strategy that helps traders get the most out of their investments.
Could Anything Go Wrong with Grid Trading Bots?
Just like any trading strategy across financial markets, grid trading bots can be challenging.
For instance, if the prices of crypto coins go above your price range, the grid bot will sell positions.
In this case, you will not benefit from that particular value increase. In cases like this, it's better to buy and hold.
Likewise, if values go below your chosen price range, it will drain your funds to buy coins which will end in a loss.
When things like this happen even the ultimate grid trading bot can't help you.
What Are Some Trading Bot Variations?
You will find that there are five different types of crypto trading bots.
1. Algorithmic 
2. Market-making
3. Arbitrage
4. Technical
5. Profile automation
It's wise to learn more about these when you decide to start trading cryptocurrency.
Top-rated Crypto Trading Bots
Conclusion
So, there you have it. Our list of the best crypto grid trading bots and more.
The concept behind the grid trading bot strategy is a proven method of buying low and selling high, a very common financial strategy in several industries.
Remember that crypto grid trading bots run 24/7 and that they can be changed based on your needs.
This list of grid trading bots are what we consider to be the cream of the crop in this industry in 2023 as of this writing.
Honestly, Pionex is first on the list for a reason since it's our favorite due to its ease of use, uniqueness and amazing features.Plus it's free to use and requires no minimum deposit to get started.
The other grid trading bots we included are great with user-friendly features and unique functions that may suit you.
Feel free to examine this list and learn more about all of these crypto trading bots before you dive into this trading strategy.
We wish you much success in your crypto grid trades.
The following two tabs change content below.
My diverse background started with my computer science degree, and later progressed to building laptops and accessories.And now, for the last 8 years, I have been a social media marketing specialist and business growth consultant.In my spare time I dabble in crypto and various types of automation.
Latest posts by Jonathon Spire (see all)