Cryptocurrency trading is still on the rise, and it is not expected to stop moving forward. What Bitcoin started just a few years ago has evolved into a full-blown digital currency trading market open to everyone who can and will trade.
This article will address the best crypto DCA bots on the market so that you will be an informed consumer.
Due to the volatile nature of the cryptocurrency market, trading bots provide ways to overcome issues in this realm. These bots work for you all day and night, strictly following your orders to perform various actions, including DCA trading.
Where once you had to know how to code to delve into the cryptocurrency market to trade, you no longer need to know coding.
Automated trading systems have leveled up the game and the playing field so that even the newbie trader can set up their own bots.
Trading bots offer a number of strategies for crypto trading, such as scalping and DCA. The following will focus on DCA trading, what it is, and the best crypto DCA bots for this strategy.
Please keep reading to the end of this article for more about DCA trading.
Best Crypto DCA Bots 2023
Let us get into the best DCA bots.
1. Pionex – Absolutely FREE
Pionex is one of the best crypto DCA bots because it offers is client bots that have already been built into the system, which means that you don't have to do any of the technical development on your end.
With these guys, you can automatically trade your cryptocurrency, and you can even include your email address on their website and receive your bots for free.
They offer a grid trading bot, and they take a tiny 0.05% commission from the exchanges that you make through their trading bots.
Did we mention that they are completely free to use?
That's right – you don't have to pay anything to use their bots or their exchange platform.
There aren't too many crypto DCA bots in the industry that are completely free to use that are of this caliber.
They also have an arbitrage bot and say that through this bot, you can earn between 15% and 50% with extremely low risk.
They have a lot of good options out there, and they also have a feature on their website which shows you how long they have been operating safely: this is currently at 876 days.
What's more, they are licensed, and they have a lot of positive reviews on their website about the benefits of their service and features.
If you are someone who wants to be able to trade at low risk, and you also want to make sure that you are able to gain from your investments without having to hand over too much of the profit, then these guys are a great choice.
Bitsgap considers its service an all-in-one automated crypto trading platform. It supports the major cryptocurrencies like Binance, Coinbase Pro, Kraken, KuCoin, Gemini, HitBTC, Poloniex, etc.
Not only that, but it offers several trading strategies, including DCA.
This cryptocurrency trading platform offers high-level safety, security, and privacy to its clients. The use of encrypted API keys ensures that your funds are yours only, and they are secure for making trades.
The data delivered to their servers is safer than what most Internet banks have.
This system is encrypted with 2048-bit protocols, and is stored on a highly secure network that is also protected via a firewall.
They recommend that you enable 2FA, two-factor authorization for an extra layer of security to further ensure that your account is safe.
Bitsgap has an AI-driven Combo Bot that utilizes tools from DCA (dollar-cost averaging) and GRID trading algorithms. This gives you better precision in your profit trading in the market.
Bitsgap offers a free trial when you sign up for one of the three plans available on the website.
Basic – $29/month
2 Active Trading Bots
GRID Bots
Unlimited Smart Orders
Advanced – $69/month
5 Active Trading Bots
GRID Bots
Unlimited Smart Orders
Futures Bots
Trailing Up and Down for Bots
Pro – $149/month
20 Active Bots
GRID Bots
Unlimited Smart Orders
Futures Bots
Trailing Up and Down for Bots
Take Profit for Bots
Each plan includes:
25+ supported exchanges
Scaled, Stop, Shadow, Stop Limit, Market, Limit Orders, TWAP, OCO
24/7/365 Cloud trading
Demo practice mode
Premade trading bot strategies (includes DCA)
Live chat and email support
Fully automated portfolio
More than 175 TradingView indicators
Mobile and Desktop versions
Remember that the DCA bot is in the Combo Bot for your reference.
Coinrule offers a way to easily trade on the cryptocurrency market using dynamic automated power. This platform allows you to get started for free, and has many features and bot strategies to make your trading experience better and more profitable.
Some of the supported exchanges include Kraken, Poloniex, Coinbase Pro, HitBTC, Binance, etc.
Much like Quadency, Coinrule has an Accumulation bot. It is within this bot that you will take advantage of the DCA trading strategy.
The benefit of using this strategy is that you do not have to worry about short-term analyses or ongoing adjustments.
Security is a priority to the Coinrule team. That is why you will find encrypted API keys for protecting your assets.
Also, 2FA is another layer of security that prevents anyone else from gaining access to your account or your digital assets.
Additionally, whether your communications are in transit or at rest, data encryption is used to protect you. Cloudflare CDN is an extra layer of protection against attacks.
This trading platform offers four plans for your consideration. This information is taken from the website.
Starter – Free
2 Live Rules
2 Demo Rules
7 Template Strategies
1 Connected Exchange
Up to $3K Monthly Trade Volume
Hobbyist – $29.99/month
7 Live Rules
7 Demo Rules
40 Template Strategies
2 Connected Exchanges
Up to $300K Monthly Trade Volume
Leverage Strategies
Live Telegram and Text Notifications
Free Access to the Trader Community
Advanced Operators and Indicators
Trader – $59.99/month
15 Live Rules
15 Demo Rules Unlimited Template Strategies
3 Connected Exchanges
Up to $3M Monthly Trade Volume
Leverage Strategies
Live Telegram and Text Notifications
Free Access to the Trader Community
One-On-One Training Sessions
Advanced Operators and Indicators
TradingView Integration
Pro – $449.99/month
50 Live Rules
50 Demo Rules
Unlimited Template Strategies
Unlimited Exchanges
Unlimited Trade Volume
Leverage Strategies
Live Telegram and Text Notifications
Free Access to the Trader Community
One-On-One Training Sessions
Ultra-Fast Execution
Dedicated Server
Advanced Operators and Indicators
TradingView Integration
Coinrule has an excellent learning section to help you learn how to use DCA via the Accumulation bot, as well as other trading resources and tools.
Quadency is a professional cryptocurrency trading bot designed to "simplify you digital asset experience", according to the website.
The goal of this trading platform is to make its clients' trading experiences seamless, while also providing access to over 1500 digital assets.
This platform prioritizes your security to protect your information, your assets, and your account safe and secure from any form of unauthorized access. Two-factor (2FA) is one of the ways they ensure your safety and security.
Also, your information is encrypted when at rest and in transit. API keys are also encrypted to ensure that only you have access to your account.
The crypto DCA bot on this platform is within the Accumulator bot. This bot accumulates, or buys a specified amount of assets over a period of time. It is the main way to utilize the DCA strategy.
You can also use this bot to sell over time, or decumulate. There are ample instructions on the website regarding how to get the most from this bot.
As far as pricing goes, this system is soon to update their pricing structure, but for the time being, using this system is free.
The free Quadency account comes with 24/7/365 trades, 20 live bots, 200 backtests per day, 24/7 live support, and unlimited connected exchanges.
Stay tuned for their updated, simplified pricing coming soon. For now, there are also no fees to trade on this platform.
This information is subject to change as there are updates upcoming to this platform.
What Comes With Your Quadency Account?
35 Exchanges and Wallets
15 Bots and Strategies
Over 4,000 Trading Pairs
Unified Experience
High-Quality Charts to Help with Indicators.
An Interface You Can Personalize
Functional Asset Research and Insights
Premium Powerful Bots
High-Level Analytics
Remember to use the Accumulator bot for DCA trading.
5. 3Commas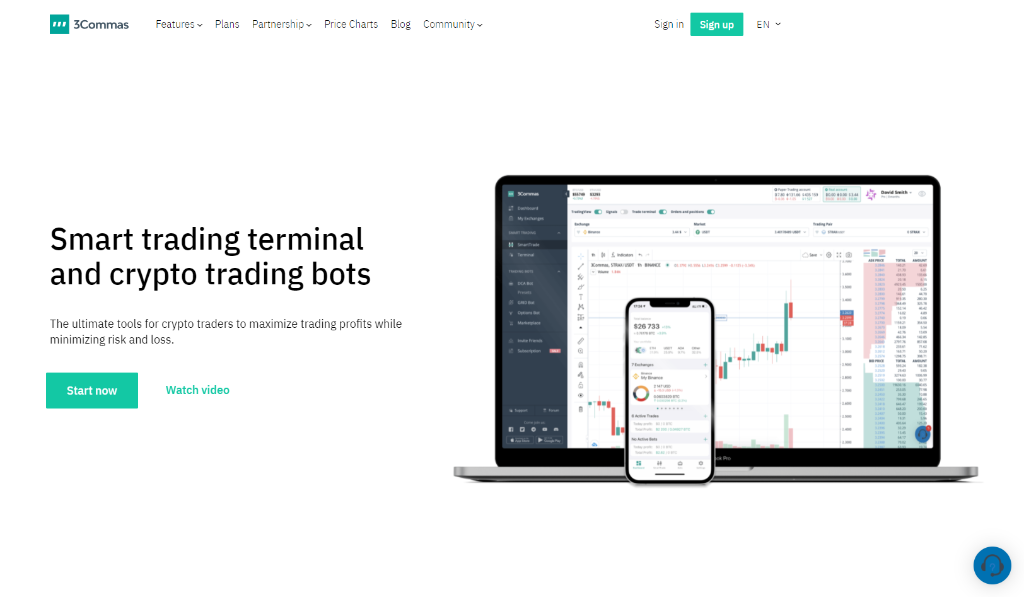 3Commas is known as a "smart trading terminal and crypto trading bots" platform. The idea behind these tools, features, and resources is to maximize your trading profits while also minimizing loss and risk.
Is that not what you should expect from such a service? The supported exchanges include, but are not limited to, Binance, Coinbase, KuCoin, Huobi, BitMEX, etc.
Some offer trading bots specifically to the exchange, some are just supported on the platform. You can use other, premade bots on those.
This platform makes it easy to find their DCA bots. Simply click on "Features" across the top menu bar, scroll down to DCA Bots (it is the first one), and click that to find the information about this feature on the website.
This page is a dedicated page for the DCA trading strategy. You will find in-depth information about this strategy, a video tutorial on how to set an advanced bot on the platform, and the various options for DCA trading provided.
3Commas is proud of the fact that their plans are commission-free and contain no hidden charges, which is something to be proud of.
Free – $0 Forever
One GRID Bot
One Active SmartTrade
One Options Bot
One DCA Bot
One Unlimited Scalper Terminal
Starter – $14.50/month with annual payment
One GRID Bot
One Options Bot
One DCA Bot
Unlimited Scalper Terminal
Unlimited Active SmartTrade
Paper Trading
Advanced – $24.50/month with annual payment
One GRID Bot
One Options Bot
Unlimited DCA Bots
Unlimited Scalper Terminal
Unlimited Active SmartTrade
Paper Trading
Pro – $49.50/month with annual payment
Unlimited GRID Bot
Unlimited Options Bot
Unlimited DCA Bots
Unlimited Scalper Terminal
Unlimited Active SmartTrade
Paper Trading
All of these plans come with the following:
18 Supported Exchanges
All Crypto Accounts in a Single Portfolio
Multi-Level Referral Program
Free Mobile Apps
TradingView Integration
More Than 20 Trading Features
Instead of using another bot to enable DCA trading, they offer an actual DCA bot.
6. Cryptohopper
Cryptohopper is known for its innovative, efficient, and easy-to-use interface. It is a reputable and popular automated cryptocurrency trading bot.
This system allows you to manage all of your exchanges, backtest your trades, and utilize a multitude of resources and tools for a profitable trading experience.
A few exchanges supported on this platform include Bitcoin, Litecoin, Ethereum, and over 100 more.
To use the DCA trading strategy on this system, you will want to find the documentation page and look for DCA.
This page is dedicated to showing you how to effectively use this strategy with video tutorials, screenshots, and written documentation.
These instructions will show you how to handle manual DCA, settings for DCA, troubleshooting, and more. Most traders consider Cryptohopper to be an excellent choice for beginners.
Cryptohopper offers four packages for you to get started on your cryptocurrency trading journey.
Pioneer – $0 Free Package
20 Positions
Portfolio Management
Manual Trading
All Available Exchanges
Explorer – $19/month and Free Trial
7-Day Free Trial
Option for annual payment to save money
80 Positions
Maximum of 15 Selected Coins
Maximum of 2 Triggers
TA with 10-Minute Interval
1 Simulated Trading Bot
Adventurer – $49/month
Option for annual payment to save money
200 Positions
Maximum of 50 Selected Coins
Maximum of 5 Triggers
TA with 5-Minute Interval
1 Simulated Trading Bot
Exchange Arbitrage
Hero – $99/month
Option for annual payment to save money
500 Positions
Maximum of 75 Selected Coins
Maximum of 10 Triggers
TA with 2-Minute Interval
All Coins for Signals
Exchange Arbitrage
Market Making
Algorithm Intelligence
This service also comes with excellent customer service via email, chat, or support ticket.
FAQs
What is DCA Trading Strategy?
DCA is short for Dollar-Cost Averaging. It is an investment strategy in which an investor divides up the total amount to be invested across periodic purchases of a target asset in an effort to reduce the impact of volatility on the overall purchase.
Purchases will happen at regular intervals, no matter the asset's price.
Essentially, the DCA trading strategy eliminates a lot of the tedious work of trying to determine the timing n the market to make purchases of currencies at their best prices.
You may also hear DCA referred to as the 'constant dollar plan'. 
Once you configure your DCA bot or choose a premade bot suited to your needs, it will make your crypto purchases for you according to your parameters.
It can occur as often as you configure it to work. 
Therefore, instead of you sitting in front of a computer screen day and night, your DCA tool is doing the work efficiently and quickly for you.
Plus, it is much faster than doing this manually.
Why DCA?
According to Nasdaq, you can profit big from Bitcoin DCA. That is a high authority on the topic, which is why we shared this with our readers.
Many experienced CEOs who trade in cryptocurrencies use DCA for their crypto trading. 
However, not everyone is only investing and trading Bitcoin. There are so many other crypto coins to buy and sell in this market.
You can use the DCA strategy across exchanges and coins. It depends on the trading platform you use, the supported exchanges, and the tools offered.
The ultimate goal of using the DCA trading strategy, no matter what market you are using it on, is to take advantage of market downturns without taking too much risk or capital at a given time.
It is really a common-sense strategy that fits into every market.
How Does DCA Work?
You must first determine the total amount of capital you want to, or can invest and what form of cryptocurrency (in this case) you want to invest.
You would do the same thing if you were investing in stocks, commodities, etc.
Now, instead of investing your predetermined amount of capital all at one time, you will be investing in small and equal increments over a specified period of time.
You can place DCA trades manually, or better yet, let DCA bots do it for you in the crypto trade market.
The idea is that you will be investing when an asset or the whole market is in a downturn.
On the other side, you will be selling off your assets when they are at a premium for higher profit margins.
It seems like it might be complicated, but with the use of the best crypto DCA bots, your risk is minimized. 
EarthWeb states that it is wise to be an informed crypto trader regardless of the strategy you use, but you should pay attention to how you utilize DCA trading. 
Are There Disadvantages of DCA?
There are disadvantages in all forms of trading in any market, but especially the highly volatile cryptocurrency market. 
As you may already know, all trading platforms charge fees for every transaction you make. Therefore, with DCA, you are likely to incur more fees.
However, since DCA is a long-term strategy, the fees are relatively small compared to the potential of high gains over a period of two to ten years.
Fees are just the cost of doing business in the crypto trading market, as with all financial trading markets. 
Something else that some traders have mentioned is that the potential of missing out on a larger gain is present if you are primarily using the DCA strategy.
For instance, if you invested a large lump sum in the market when it was in a downturn, and then it exponentially rises for a huge gain, that huge windfall will be missed if you are focused on DCA.
If that is not a concern, DCA is still a great strategy.
DCA may not be great if you buy after there is a steep rise in an asset and then suddenly it faces a downturn that converts into losses, you will feel disappointed in your strategy.
However, if you are diligent in your cryptocurrency trading efforts, you can minimize such issues.
Conclusion
You will find that all of these cryptocurrency platforms offer high-level protection against malicious attacks and protection against anyone getting access to your account, your assets, or your information.
We mention security first in the conclusion because this is such a concern for cryptocurrency traders at all levels of experience and portfolios.
No one wants others to have access to their accounts, regardless of how much or how little is in the account.
According to our research, the DCA trading strategy is well-suited for any kind of volatile asset. For instance, Ethereum and Bitcoin.
It is hard to predict the price fluctuations in these cryptocurrencies. DCA can be a safer and more effective approach than investing your entire amount all at one time.
Final Thoughts
The overarching opinion of many experienced cryptocurrency traders is that DCA is an excellent strategy for such a volatile market.
They consider it to be safer and more rewarding over the long term. It means you need to learn patience, which you need for any kind of trading anyway.
The following two tabs change content below.
My diverse background started with my computer science degree, and later progressed to building laptops and accessories.And now, for the last 8 years, I have been a social media marketing specialist and business growth consultant.In my spare time I dabble in crypto and various types of automation.
Latest posts by Jonathon Spire (see all)