Crypto trading has risen to popularity over the past few years. It's been especially popular since the pandemic started, but we aren't sure we can attribute the growth solely to that.
Copy trading is one of the best ways for beginners to start in crypto trading.
The best crypto copy trading platforms will be listed in this article along with things you need to know about crypto copy trading.
This is the kind of software that opens up crypto trading to newbies in the cryptocurrency trading market.
So, you don't need to have excessive knowledge or experience in this market.
We are going to cover the topic of crypto copy trading platforms and bots to help you decide if this is the way you want to go to get started.
We will be sharing a viable list of the best crypto copy trading platforms and bots.
Best Crypto Copy Trading Platforms & Bots in 2023
Let's review the best crypto copy trading platforms and bots for 2023.
Pionex defines its service as an "exchange with a built-in crypto trading bot." It boasts 16 free built-in crypto trading bots. What makes this crypto copy trading platform unique? It's totally free.
If you don't have a lot of money to put into cryptocurrency trading and investing. Pionex is an excellent choice. You only need to share your email address to start using the automated bot without spending a dime.
The trading bots on this platform are diverse and versatile, so it won't matter what method you wish to use for executing trades. It can help you regardless.
According to its users, the customer support is excellent as is its state-of-the-art security. Your personal information is safe and secure.
So, if you're seeking a copy trading bot that is capable of handling your needs for cryptocurrency trading by making it all easy, we like Pionex for that.
The eToro platform is all about "the power of social investing", according to its website. It currently has 25 million people on the platform. This platform has some of the most sophisticated social trading solutions in the market.
You can trade your cryptocurrency here, but you can also trade your stocks, gold, and commodities all from one platform.
It claims to support over 16 cryptocurrencies at the time of this writing with the potential of adding more. Its copy trading feature is exciting, revolutionary, and innovative.
It allows you to copy the actions of other traders with levels you can adjust to avoid risk and exposure.
That means you aren't totally dependent upon another person's activity to lessen the risk of loss just in case.
On eToro, your funds are protected by cutting-edge security protocols where your data is not shared without your say so.
You need to know that eToro charges a $5 fee for withdrawals, which is supposedly the only fee you incur with this bot. However, it's possible you may get charged for spreads.
Next on the list is Shrimpy, which is a helpful and highly versatile cryptocurrency copy trading platform. This platform is based in the cloud, so there is nothing to download or install. 
You not only get to execute trades and copy trading from this platform, but you can also use it to manage your digital asset portfolio.
In this case, you get to select what percentage of tokens are in your portfolio and rebalance at times you choose.
Other useful features include insights, backtesting, and the social aspect that allows you to get involved in the crypto community.
This platform is built with the fully secure HTTPS protocol, API key encryption if you so choose, and 2FA (two-factor authentication).
You will find it offers support across numerous exchanges and a referral program that offers some enticing benefits.
They do charge a monthly membership fee. You can also connect to their exchange account and create your portfolio.
4. Kryll
Next up is Kryll. This bot says it's a "powerful crypto trading bots marketplace for Bitcoin" and more.
This platform is relatively popular amongst crypto traders. You will find that it has all you need to execute trades.
This is a crypto copy trading platform that offers very powerful crypto trading bots, and Bitcoin bots to automate your crypto trades.
One of the bonuses of this crypto copy trading platform is its marketplace where you can connect with the cryptocurrency community to swap strategies for trading with other traders.
This is another good solution if you're new to the crypto community and require some advanced features that make it easier to start getting a return on your trades.
You simply open a free account on Kryll, choose the cryptocurrency trading strategies you want copied to your account.
Everything is automated, so after you choose your trading strategy, you get to test it for free before implementation.
You can trade through the platform or use the apps available for iOS and Android. The pricing consists of 1% of traded capital per one month of use.
5. Wunderbit
Wunderbit, also called WunderTrading, is a cryptocurrency trading platform. You get to get trades from veteran crypto traders while also automating your trades through their bots.
This platform has a wide array of exchanges with which to work that are used by over 2,000 clients. Our opinion of this crypto copy trading bot is that it's both practical and user-friendly.
As for its pricing structure, that is based on the concept of profit-sharing. In this instance, your first month will be free and then you'll be sharing 30% of your profits biweekly.
Otherwise, you pay no monthly subscription fees.
6. 3Commas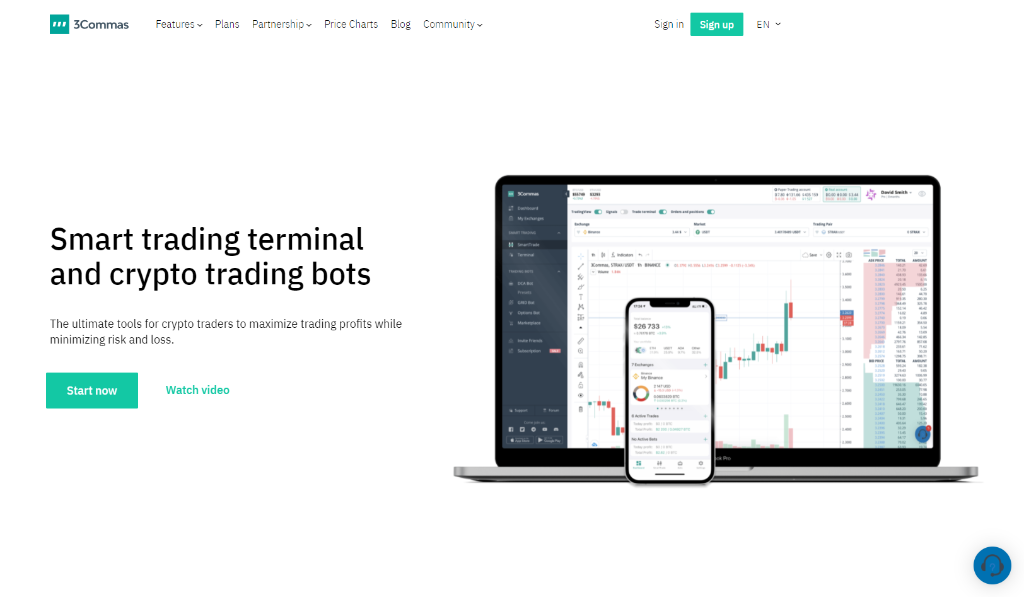 3Commas is a smart trading terminal with multiple crypto trading bots. You get a lot of opinions on this platform since they offer several crypto copy trading strategies for your use.
Not only does it offer crypto trading bots, it also offers Bitcoin robots.
If you like the ideas of being part of the cryptocurrency community where traders can share and swap trading strategies, you can do that too.
It's as easy as simply selecting the cryptocurrency trading strategy you want to copy. The crypto bot takes it from there. You can choose to automatically buy and sell orders totally through your account.
It's worth noting that your funds aren't stored or held on this platform. Also the crypto bots don't make withdrawals on your behalf.
3Commas supports a big array of exchanges and it has a good reputation among its users. If you're a beginner, the interface is just right for you.
Initially, you get three free days to try out the pro plan. After that, the starter package will cost $14.50 a month.
7. Trade Mate
Trade Mate claims to be able to improve your trading skills and monetize them.
According to its clients, this platform is very helpful in terms of copy trading since they have sophisticated features for trading on the biggest platforms available.
If you're an investor, you have a grand opportunity to make the best of this platform to find traders that fit your needs. You can make smart decisions for your crypto tokens.
Something Trade Mate is well known for is its crypto trading bots that offer fast returns for investors. It's an easier and faster way to get the most from all the opportunities accessible in the market.
The subscription cost is $20 per month after you take advantage of its free, seven-day trial. This platform also has a referral option with benefits when you bring others to the platform.
8. Coinmatics
Coinmatics says it offers "crypto trading performance on autopilot." Who doesn't want that? This crypto copy trading platform was launched back in 2018 and has made a reputable name for itself.
It's said to be good whether you're a professional or a newbie to the crypto game.
It allows newbies to enjoy less risk in trading and professionals to get the most out of their trades, plus investors can copy their crypto deal in either automatic or manual mode.
If you're a crypto trader, you have the best opportunities for making deals from your copied trades.
Coinmatics main feature is its crypto copy trading option. It's convenient to say the least. There are also many methods on the platform from which to take advantage in your trades.
The one downside, if you consider it a downside, is that they only use Binance for copy trading at the time of this writing.
As far as security measures, it uses the API key protocol to prevent withdrawals and they use 2FA for your account protection.
The trial is free and unlimited, but they have more analytical tools if you're a pro trader. This system is based on the profit-sharing model.
9. Tradelize
Tradelize is next on our list of the best crypto copy trading platforms and bots. You can enjoy getting the most from your trades without putting in all that time and effort.
This trading platform was developed by traders with a combined 10 years plus of trading experience.
Since this is also a decentralized social platform, you can take part in the community of traders and investors.
It helps people get the most from a professional quality desktop trading terminal.
You may also decide to download the mobile app that offers real-time stats from various exchanges to help you make smart decisions for your investing coins.
Tradelize is known for its close community-centric network where users rate one another's profiles so you can learn who is real and legitimate with successful crypto trading strategies to share.
This platform offers a variety of features and functions including a portfolio management system.
There is a free plan and a pro terminal plan, which costs $39.99 per month.
10. CopyMe
Our final entry for this list is CopyMe. Being the last on the list doesn't mean anything since we didn't prioritize after the first three crypto copy trading platforms.
In reality, this platform is based in the United States and is a good option for anyone seeking a high-quality, efficient, effective, and unique crypto trading platform.
This platform gives you the best shot possible for successful copy trading.
You can follow one or more of the expert traders to determine just how many digital assets you want to allocate to each without selling your funds to anyone else.
Using their advanced filters allows you to find the cream of the crop trader(s) so you can copy their trading strategies. You get to copy as many as you want simultaneously.
The 24/7 customer support is said to be knowledgeable and superior. They are there for you when you need help.
You get to allocate your digital assets between multiple traders, which means you aren't wedded to only one trader.
Pricing starts at $40 per month.
What Is Copy Trading?
So, copy trading is where traders can automatically copy the positions opened via several other traders.
During this process both trader accounts are linked, meaning that any trades executed by one account will also be performed in the other account.
Copy trading also allows you to manage copy trades to reveal whether it suits your needs or if it requires altering.
There are multiple crypto copy trading platforms, apps, and bots accessible to you that can help you execute these trades.
One of the best benefits of copy trading platforms is that they provide you with access to a wide array of tools to help you mitigate cryptocurrency trading risks.
Is Copy Trading Good for Newbies?
Cryptocurrency copy trading is great for newbies to the crypto trading market.
As you may already know, trading in cryptocurrencies is time-consuming because you must take the time to do your research before you even make your first trade.
These bots, apps, and platforms help you find the best crypto projects, known as hidden gems within the cryptocurrency community.
You can also manage your crypto trades to keep up with the goings on in the market.
Without the copy trading programs, you would need sophisticated knowledge of technical analyses. Building those skills takes a lot of time much like research.
Some green traders like this kind of platform because it lets them make money without a lot of time and effort behind it.
What Are the Pros and Cons of Crypto Copy Trading?
FAQs
How Does Copy Trading Work?
You will achieve the same results as the trader you copy when using this method of cryptocurrency trading.
This can mean gains or losses. Remember, your portfolios are connected in this process.
Is It Legal to Copy Trade?
Yes. Copy trading is legal. However, that doesn't mean it comes without risk or other issues. Not all countries allow this kind of crypto trading.
Plus, some restrictions allow you to only copy trade with other traders in your own country, like the US. It's wise to know the rules and regulations of your country.
Is Money Made from Copy Trading?
Making money using the copy trading method depends on the trader's strategy you copy.
Knowing if you're getting a strategy from a trader that possesses a solid success rate and solid performance helps to mitigate the risk of losses.
It's smart to understand that by diversifying your copy trades, you also mitigate risk. Pay attention to extraneous fees and charges.
How Do You Choose the Best Copy Trading Platform?
Choosing the ideal copy trading platform for you is about your needs as a trader and how much you plan to spend on this method of trading.
If you're seeking a place where you can learn as you go, it's better to choose one that offers a community to exchange ideas.
Another aspect of choosing the right copy trading platform is its safety and security protocols. Those that use 2FA, HTTPS, and API keys to connect your exchange are the safest and most secure you can get nowadays.
No one should be able to withdraw funds from your account except you.
Top-rated Crypto Trading Bots
Conclusion
We've come to the end of our list of the best crypto copy trading platforms and bots. We hope you have learned something from this information about copy trading.
This list represents our current opinion on which ones are best and safest to use.
As you read through each brief review of the platforms, be sure to pay attention to anything that you believe to be what you want from such a trading solution.
Check out the security, features, fees and charges, free trial options, and whether or not the platform offers social interactions via a community of traders.
Several of these copy trading platforms and bots offer a free trial that you can take advantage of for the provided time.
We recommend that you utilize that option. It will help you make the best decision based on your needs for a copy trading platform.
The choice is ultimately yours when it comes to choosing and using crypto copy trading platforms and bots you use for your trades.
We wish you much luck and success!
The following two tabs change content below.
My diverse background started with my computer science degree, and later progressed to building laptops and accessories.And now, for the last 8 years, I have been a social media marketing specialist and business growth consultant.In my spare time I dabble in crypto and various types of automation.
Latest posts by Jonathon Spire (see all)