If you are not new to cryptocurrency trading, you probably already know at least some things about the arbitrage strategy.
You may have even tried it.
Whether you have or have not, you should know about the best crypto arbitrage bots, and whether it is a wise strategy in this market.
We are also going to talk about some top trading lstrategies that you can capitalise on as well to give yourself an edge.
Best Crypto Arbitrage Bots 2023
If you are going to try crypto arbitrage trading, then you definitely need to have a good crypto arbitrage bot under your belt.
Here are the best crypto arbitrage bots in the industry that you need to try.
1. Pionex – FREE Bitcoin & Crypto Arbitrage Bot
Pionex is an excellent choice for arbitrage bot trading, if you want to be able to take your cryptocurrency trades to the next level, but you don't want to have to spend much more time on it than you are currently doing so.
All you need to do to make the most of their bots is show your email address, and believe it or not, these bots are absolutely free for you to use.
This means that you can capitalize on all of their crypto arbitrage bots and you don't have to pay a cent for them.
You might think that this is some kind of a scam, but the opposite is true, it is just a rock-solid crypto arbitrage bot service that wants to do everything to make sure that its clients are trading safely and successfully online.
Naturally, not all of their bots are going to be compatible with arbitrage, because they want to cater to other cryptocurrency investment methods as well, like grid trading.
Eventually you are going to be able to try out a multitude of cryptocurrency trading strategies under one roof.
They don't even have a minimum that you have to pay when first investing with them, so you can get started yesterday.
Bitsgap is a crypto arbitrage bot, and it is also a trading platform that claims to be all in one. This means that you can invest your cryptocurrencies whether you are investing Bitcoin, Ethereum, or a smaller coin.
They have smart algorithmic orders that they share with their clients, as well as demo and portfolio trading, so that you can easily manage all of your cryptocurrency assets, and you can do so within one dashboard.
Like some other popular crypto arbitrage bots in that industry, you can get started with these guys for free, and they also have a tutorial video that you can check out, so that you know what you're in for.
You will see their chat log, so that you can talk to them about any concerns that you might initially have, and they also say that you can easily access the performance of your digital assets through your portfolio, which they regularly update.
All you need to do is take a look at the positive reviews left by existing clients to know that this is the kind of arbitrage bot you want to work with.
Coinrule is a crypto arbitrage bot that wants to offer its clients a lot of advantages over the competition, and one of these advantages is being able to make the entire process of cryptocurrency trading really easy.
They know that being able to automate your crypto arbitrage trades means that you get to relax a little bit, and not have to spend so much time at your computer, and they want to take this one step further.
They want to empower you as a cryptocurrency trader, so that you can compete with some of the best out there, and you don't even need to be an expert in coding in order to be able to do this.
We love that you can get started with them for free, and they offer regular discounts.
If you have your cryptocurrency tokens on one of the 10 most popular exchanges, then you are going to be able to work with Coinrule, and they also implemented military-grade encryption and security, so you can breathe a sigh of relief, knowing that your personal assets are kept safe.
Shrimpy is going to do its best to make sure that you have everything you need when it comes to using a trading bot for arbitrage.
When you visit the website, you'll see two options, you can either check out their demo, or you can get started with them straight away.
Another thing that's really great about their dashboard is that it is easy to use, and you can link up all of your wallets and exchanges within the dashboard so that you can manage all of your crypto assets online from one place.
You can even track your performance in real time, so that you can see whether the market is working for you or not.
If you are looking for a way to successfully implement arbitrage into your trading strategies then you need to check out Quadency, one of the best crypto arbitrage bots in the industry.
They talk about how they can simplify their client's digital asset experience which means that you are going to be able to trade every aspect of your cryptocurrency online, no matter what level you are when it comes to your investment skills.
Whether you are a beginner, or you've had a lot of experience in the cryptocurrency investing industry, you're going to be able to trade cryptocurrency with just a few clicks.
You can start your free account with them, and you can trade Bitcoin, as well as Ethereum, and other major cryptocurrencies.
You can also trade smarter, which means that you can ultimately save time investing in your cryptocurrency assets and capitalize on boosted portfolio analytics as well.
6. Trality
Trality is a really helpful cryptocurrency arbitrage bot that can help you code and create trading bots, just like a professional.
They say that they are a platform for anyone who wants to be able to profit from algorithmic trading and the good news is that it isn't going to take up all your time, which means that you don't have to give up your day job, in order to invest in cryptocurrency.
You can try them for free, and you can also watch their tutorial online, so that you can learn how they work, and whether they are a good fit for you or not.
One thing that these guys detail on their website is the fact they can help you whether you are just starting out, or you are someone who has a lot of coding experience, and wants to be able to come up with their very own cryptocurrency arbitrage bot.
They have more than 80,000 verified users and promise that they use the highest level of security, so that you can feel confident that your funds and your algorithms are always going to be safe.
7. 3commas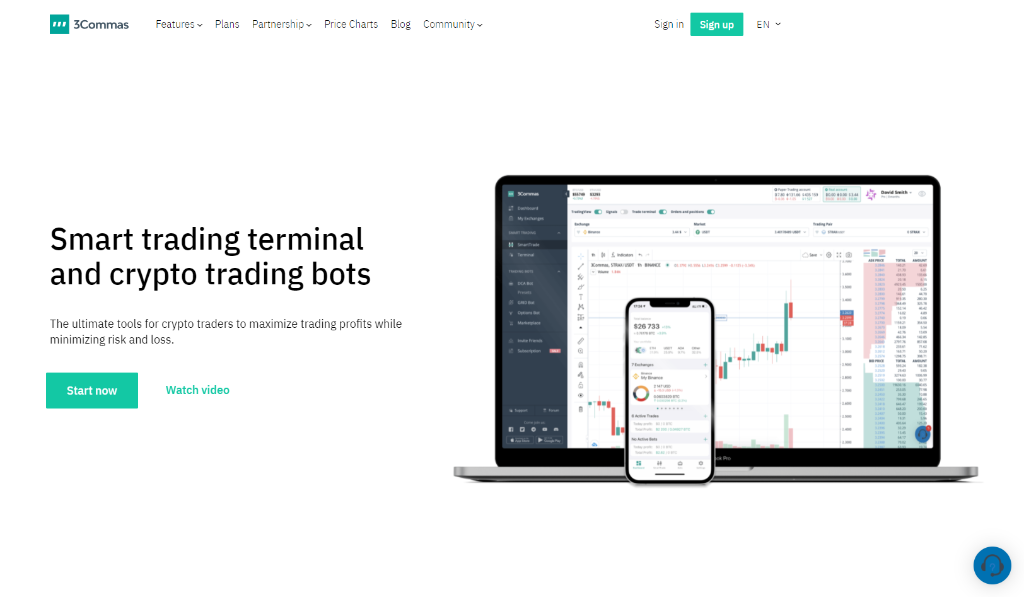 3commas is a really effective crypto arbitrage bot that can help you monetize your cryptocurrency portfolio.
They can help you grow your cryptocurrency investments, because they have a terminal that is feature rich and is proven to help you with an automated bot that is going to connect you to more than 18 popular exchanges.
You can begin by making the most of their free trial, and considering they have thousands of positive reviews on Trustpilot, we think that they have a lot going for them.
They say that they can help traders when it comes to their investments, regardless of what the market is doing, and as well as offering you help as far as your arbitrage trading strategy is concerned, they can help you with other aspects of your trades.
This means that if you want to venture out at some point, and incorporate other trading strategies, you can do so.
8. Haasonline
Haasonline is a crypto arbitrage trading bot that offers its clients some of the world's most advanced crypto trading bots.
This way, you can rapidly backtest, develop, and execute high frequency cryptocurrency trading bots, across a number of different crypto exchanges within just a few minutes.
This is perhaps one of the best ways to implement your arbitrage trading without it taking up all of your time.
They host everything on the cloud, meaning that you don't have to download anything in order to use them, and they also help you reduce risk, because they simulate your trades, and prove the likelihood of you making a profit from your trades with backtesting.
9. Cryptohopper
Cryptohopper is world class when it comes to being a trading bot for arbitrage, because not only are they going to provide you with some of the best trading bots in the industry when it comes to this specific crypto trading strategy, but they are also going to help you become a better trader in general.
If you are someone who wants to learn from the best, and wants to be constantly improving your trading strategies, then these guys are going to be one of your best bets.
You can begin with a free trial, or you can watch their informational video on the website.
10. Napbots
Napbots is really helpful if you're looking for a trading bot that specializes in arbitrage, because they can help you not only copy trades from professionals in the industry, but they can help you make the most of a marketplace as well.
They say that with their features, and their indexes, trading has never been this easy.
They also talk about how their trading strategies have been made for all kinds of different levels and investment styles, so that you can make the most not only of trading bots if you are a day trader, but you can also make the most of crypto indexes, if you are beginner trader.
11. Blackbird
Blackbird is a cryptocurrency trading bot that can help you with arbitrage trading, and they say that with their features, they have the main goal of making it really easy for their clients to implement their cryptocurrency trades.
They say that as far as their trading crypto signals go, they are going to be some of the only ones that you will ever need to make the most of and when talking about the team behind the scenes, they are comprised of professional traders, who are going to offer you cryptocurrency signals, and portfolio management in general.
12. Botsfolio
Botsfolio takes the needs of its clients seriously when it comes to being able to help them with arbitrage trading, which is why they promise that with their features, you're going to be able to trade cryptocurrency like the professionals.
You can do so to the point where you'll be able to sit back and relax and let them take the reins, so that you don't need to be constantly worrying about whether they are making the right choices for you or not.
You can check out the performances of their strategies and you can also have peace of mind knowing that they are taking the good kind of risks for you.
13. Hummingbot
Hummingbot definitely has a lot going for it when it comes to being a trading bot that can help you with arbitrage, because they are open source.
This means that they are free for you to use which is great if you are on a tight budget right now.
They also make it easy for you to test drive their features, which means that you can try their features out in your browser, and you don't have to pay for this privilege.
They are constantly working on updating and improving their features, so when you do install their trading bots, you're going to be installing the latest release.
14. GunBot
GunBot is one of those platforms that is a community of traders, which means that you can not only make the most of the trading bots for arbitrage, but you can learn from their existing community, and even copy trades that have been used in the past.
The advantage to these guys is that they offer a lifetime license, which means that once you have made the initial payment for their services, you aren't going to really have to pay for anything else.
They are even going to apply updates and improvements to your license over time, so that you can always benefit from their latest features.
15. CryptX Terminal
The next trading bot on our list is ideal for arbitrage if you want to be able to work with an all-in-one solution.
When they say they are an all-in-one solution, they mean that they can help you with market management, analytics that have been personalized for your needs, and back testing.
You can make the most of their features across multiple exchanges if you have your cryptocurrency assets spread out right now, and you can even make the most of a trial account, which is going to be available to you without having to share your credit card information.
16. Coinigy
Coinigy is another really good choice if you're hoping to implement your arbitrage trades with a trading bot, and you're hoping to find a company that has a really good level of support.
Support is really important when you're using ongoing service like this, so the fact that they have a live chat system on their home page as soon as you visit it is a really good sign.
It is also a really good sign that you can get started by just sharing your email address with them, and the fact that they can help you trade anywhere, anytime across multiple exchanges says a lot.
What is Crypto Arbitrage?
The concept behind cryptocurrency arbitrage is to capitalise on the liquidity, decentralisation, and the volatility of the crypto market.
The crypto arbitrage strategy takes advantage of price differentials across various assets and markets and the inefficiencies of the cryptocurrency market.
One of the factors used in arbitrage is that the different crypto exchanges offer a diverse number of buyers and sellers, as well as a wide array of trading specialties and preferences.
These are some elements that play a role in producing inconsistencies you will see between spot rates through the different markets and/or instruments like Bitcoin.
The Types Of Crypto Arbitrage
Spatial Crypto Arbitrage
The easiest to use and simplest of this kind of strategy is the Spatial Crypto Arbitrage method. You will be looking at one cryptocurrency on two separate exchanges.
If the specific crypto is listed at different prices, traders will buy the cheaper and then immediately sell it through the higher priced platform, which is basically instant profits.
Here is an example: Let's say you buy Ethereum from one exchange platform, transfer it to one that has it valued at a higher price, and then you sell it.
While this seems like a great strategy on the surface, it is not very efficient as it takes extra time for the transfer and it incurs more fees and other charges.
Can that inefficiency be overcome? Apparently, traders will hold fiat currency in one platform and crypto in another.
Then, when the opportunity is presented, the same order for buy and sell can be placed simultaneously on both exchanges.
This method allows one to perform these trades without having to transfer between the exchanges, which incurs fewer charges and fees and is a more efficient use of time.
Triangular Arbitrage
This form of arbitrage in the cryptocurrency realm is more complicated than the Spatial form because it involves using three trades as opposed to just two.
These trades are also performed within the same exchange platform.
In this arbitrage strategy, the trader is looking at three cryptocurrencies, and trading through them all until they come back to the original digital asset.
An example of this crypto arbitrage strategy is to see an opportunity in the Ethereum and Bitcoin exchange rates.
The idea here is to exchange Bitcoin for Ethereum, which in turn can be traded for another coin, like Ripple, and then back to Bitcoin.
If the spot rates are inconsistently aligned, this trader may wind up with more Bitcoin than they started the process with, even though they traded around a loop.
Flash Loan Arbitrage
This form of crypto arbitrage is even more complex and a bit tricky sine you will be using advanced technologies that back altcoins as well as lending approaches.
The Flash Loans offer instant crypto loans, allowing traders to borrow ample amount of digital assets without having collateral.
The concept here is to take advantage of the variety of interest rates offered by Flash Loan providers.
Other Crypto Arbitrage
The above are only three of several arbitrage methods for trading cryptocurrencies. Traders inside and outside the altcoin realm have ample opportunities to cash in on this strategy.
What are the Benefits of Cryptocurrency Arbitrage Strategies?
Quick Returns – You can get fast profits/gains in the market by leveraging the inconsistencies and fluctuations on various exchanges for various coins. These inconsistencies happen over a short time period, therefore, profits are made quickly as soon as the orders and trades are completed.
Ample Opportunities – With more than 500 exchanges and 4,000 plus cryptocurrencies across the globe, you can only imagine the range of opportunities for arbitrage. The chances of these opportunities coming to you are virtually limitless.
Crypto's Volatility – The very thing that makes crypto so appealing is also the very thing that presents highly profitable arbitrage opportunities. That thing is the market's volatility. Just look at Bitcoin as it experiences wild ups and downs. Since digital currencies are decentralised, the idea of it being a volatile market is almost a surety.
Immaturity – Unlike standard fiat assets, digital assets have not been around for a long time. The youth of crypto alone supports an irregular, disorderly environment for trading between exchanges. The fact that some are less established than others also plays a role in the vast opportunities for crypto arbitrage to be profitable.
Competition – Even though crypto's popularity has been on the rise and continues to rise, the youth of the concept and the fact that there are fewer people trading digital assets creates lower competition. The competition is much lower for cryptocurrency trading than fiat currency trading.
Price Differentials – Price differences play a huge role in digital currency. The pricing inconsistencies can range from 3% on the low end and up to 40% on the high end. There are ample opportunities for crypto arbitrage.
What are the Risks of Crypto Arbitrage Strategies?
Regulations – Just because there are literally thousands of digital currencies available and hundreds of cryptocurrency exchange platforms on the market, does not mean everyone everywhere has access to them all. There are KYCs (customer regulatory restrictions) that limit how many you can access. Other regulations may require that certain exchanges to require identity proofs or bank account information before they will approve an account.
Fees – When you calculate how much to deposit and trade at any given time, you must also factor in the trading charges and withdrawal and deposit fees taken in the process. Almost all exchanges charge fees for trading.
Security – Security online is always a risk no matter what you are doing. The digital assets' industry is no exception to this issue. While the profitability of storing some of your digital assets on reputable exchanges is high and helps to decrease the time requirements of trades, there is also the potential for increased in security risks. What is worse is when you store your gains in multiple wallets or accounts, your assets are at even more risk of getting hacked for one or more of them.
Volume Requirements – Because of the small profits availed via cryptocurrency arbitrage, the amounts of capital required will be larger if you plan to generate higher and better profits.
Timing – Timing is everything on the crypto market. Arbitrage opportunities come and go quickly. Due to the small window of time within these opportunities, traders must be diligent and vigilant to grab that brass ring when it is available.
Cryptocurrency Arbitrage Bots
One way to overcome the issue of timing, is to enlist help from crypto arbitrage trading bots that support arbitrage strategies.
Bots come in handy with their tools and coding that boosts your chances of successful arbitrage trading.
The two main paths you can use for arbitrage bots are writing your own if you are good at coding, or using prebuilt coded bots.
Many traders choose the prebuilt bots for their arbitrage since, again, it saves time, and it maximizes your success.
Each bot has its own features, specialties, and approaches to suit the differences in the ways traders want to use this type of trading.
It is wise to do your due diligence when choosing such technology to avoid the pitfalls of getting scammed versus the upsides of gaining profits.
Read reviews before using premade crypto arbitrage bots. You also need to know if your exchange(s) support this technology.
Before choosing a premade bot, be sure to read reviews and avoid the malicious individuals who are out to steal your assets instead of helping you win on the market.
There are also crypto trading forums where bots and any malicious entities are discussed to help you avoid being vulnerable to them.
That said, the traders who want to have more control over their digital assets and arbitrage strategies will develop their own bot.
To do this, you will need some programming knowledge and time.
Top-rated Crypto Trading Bots
Cryptocurrency Arbitrage Tools & Software
Besides using automated crypto trading bots, you and also supplement your digital asset strategies with other types of tools and pieces of software.
Some available tools include scanners, finders, charts, and other information to help you be a better trader. You may even sign up for alerts from Telegram to stay on top of the markets.
Did you know that arbitrage can be performed without using your computer? You can use your smartphone or tablet when you install apps like Crypto Arbitrage Pro APK.
These apps offer built-in calculators and matrices developed by experts to help you trade efficiently.
What You Should Look for In a Crypto Arbitrage Bot or Platform
The ideal platforms will support your currencies and your exchanges will support the arbitrage tool or bot you want to use.
The more cryptocurrencies and tools are supported, the easier it is to find solid arbitrage opportunities.
Be sure to engage with platforms that use dedicated APIs for maximizing your security. They should also have built-in tools, support external bots, and allow automatic trading.
If you want to maximize your gains, look for platforms with low fees, and a wide array of withdrawal and deposit options.
All this will help you find the ideal arbitrage options for you.
FAQs
What Is Bitcoin Arbitrage Trading?
The thing about the cryptocurrency market that makes it slightly different to other markets is that it is known for being extremely volatile.
This is why the idea of arbitrage trading is potentially more sought after in the world of cryptocurrency over more traditional markets.
The thing about cryptocurrency asset prices is that they can deviate significantly over a certain period of time.
Because they are traded around the world, across hundreds of different platforms around the clock, there are plenty of opportunities for arbitrage traders to find discrepancies in value.
Therefore, arbitrage trading involves spotting a difference in value of a cryptocurrency asset across two exchanges and taking advantage of this difference in value.
Why Is It Seen as A Low-Risk Trading Strategy?
When it comes to executing arbitrage trading, this is different to a day trader, because you don't have to predict the future value of crypto currency.
You also don't have to enter a trade that might take hours or days before it turns a profit.
When you are able to spot arbitrage opportunities, and as a result, capitalize on them, you are able to make a profit, without having to analyze the market in depth, or use another strategy that involves price predictions.
You can make your trades within minutes or even seconds.
Why Use a Bitcoin Arbitrage Trading Bot?
One thing to think about when you are considering implementing cryptocurrency trades using arbitrage is the fact that because you have to be looking for discrepancies in the market on a consistent basis, this means that you more or less need to be sitting at your desk for a lot of the day.
However, hardly anybody has this kind of time, especially if you are still holding down your day job. This is where a crypto arbitrage bot comes in.
With a crypto arbitrage bot, you can automate your arbitrage trades, and set certain parameters around the automation of the bot, so that you are able to discover gaps in the market, without having to be at your computer screen the whole time.
Final Thoughts on Crypto Arbitrage Bots
Essentially, crypto arbitrage is not a strategy like any other in the industry. It may interest you to know that conventional arbitrage has been on the decline in recent times due to improved networks and stricter rules.
The decentralisation of Bitcoin and other cryptocurrencies offers steady volatility, which provides excellent and many opportunities to take advantage of by using the best crypto arbitrage bots for trading.
The following two tabs change content below.
My diverse background started with my computer science degree, and later progressed to building laptops and accessories.And now, for the last 8 years, I have been a social media marketing specialist and business growth consultant.In my spare time I dabble in crypto and various types of automation.
Latest posts by Jonathon Spire (see all)